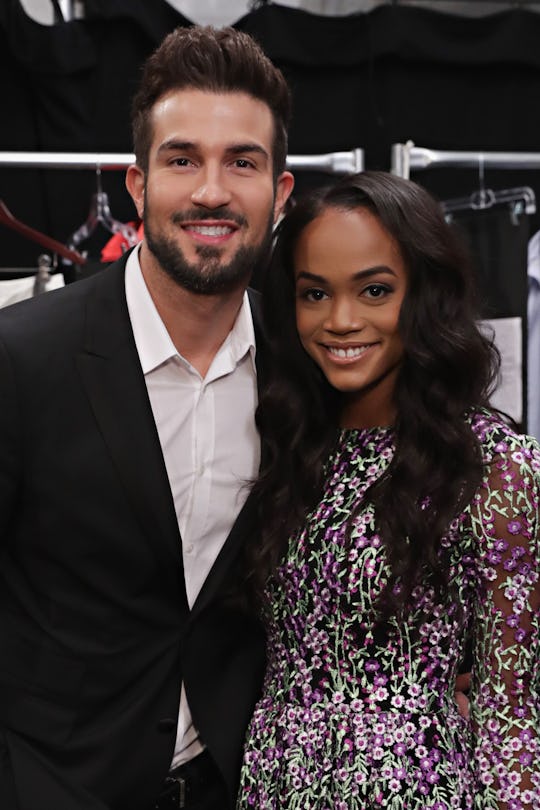 Cindy Ord/Getty Images Entertainment/Getty Images
Are Rachel & Bryan From 'The Bachelorette' Still Getting Married?
Despite The Bachelor franchise having been around for years now, there's just a handful of couples who are currently engaged and on the road to being married. Included in that eclectic group are Bryan Abasolo and Rachel Lindsay from Season 13 of The Bachelorette. But since it's been a little while since they got engaged on TV and started their happily ever after of love and sheer bliss in the public eye, it has to be asked — are Rachel and Bryan from The Bachelorette getting married? They've been together long enough for those wedding bells to start chiming already and Rachel was one of the confident and engaged women who showed up on the premiere of Becca Kufrin's season of The Bachelorette, so they're definitely still going strong.
In February, the couple spoke to Extra about their upcoming nuptials and announced that their wedding will be happening sooner rather than later. "We definitely want to get married this year, and that's the plan," Bryan revealed at the time. "2018, it's gonna happen." He did admit, though, that they hadn't taken any concrete steps in the planning process at the time even though they both had their hearts set on walking down the aisle before the end of the year.
Since Bryan proposed to Rachel in 2017 on The Bachelorette, they've been a solid couple. On Instagram, they're quick to showcase their lives together, which includes traveling, working out, and generally being adorable together. They're also super supportive of each other's career paths and seem to take the time, more often than not, to post encouraging things about one another on their respective accounts.
Rachel also recently posted a photo of Bryan with the caption: "Heartache is always a pit stop on #thebachelor journey but once you become #thebachelorette, you are in the driver's seat and you can control your own HAPPY ENDING! So glad I followed my gut...the first time." Basically, they are couples goals and for two people from The Bachelor franchise to seem so right for each other, it's definitely the exception.
Although Kaitlyn Bristowe and Shawn Booth from The Bachelorette season 11 are still going strong, Andi Dorfman, who was engaged to her winner, Josh Murray, following the finale of season 10, are no longer a couple. Likewise, Nick Viall from season 21 of The Bachelor and his winner, Vanessa Grimaldi, called it quits less than a year after the show's finale aired. While Bryan and Lindsay aren't necessarily the exception by staying together and making their relationship work post-reality TV, they do prove that their relationship is the real deal. So naturally, their wedding is still on.
Although the actual plans for their wedding are a little dicey at the moment, the fact that Bryan and Rachel have officially moved into and designed their own apartment together is a good sign. Previously, Bryan moved from Miami to Dallas to live with her in her apartment, but as Rachel told People, her apartment felt too small for the couple and they couldn't quite make it their own. So they recently moved into a new apartment together which they worked hard to style to suit both of their needs and tastes. Again, I say — total couples goals.
Lately, the Bachelor Nation couple's life together has been more about putting down roots and celebrating their relationship, so they haven't said much recently about their pending wedding. In February, however, Rachel did tease a potential televised wedding that would surely help fans believe in the franchise all over again. "We're still just trying to figure out if we're gonna have a televised wedding or more personal," she revealed at the Go Red For Women Red Dress Collection Fashion Show. "Maybe we'll do both! Why not? We've had a bunch of engagement parties. Why not have two weddings?"
The last televised wedding from Bachelor and Bachelorette alums was during season four of Bachelor in Paradise between Carly Waddell and Evan Bass. So while we're not exactly overdue for one, it would also be the perfect way for Bryan and Rachel's love story to come full circle.