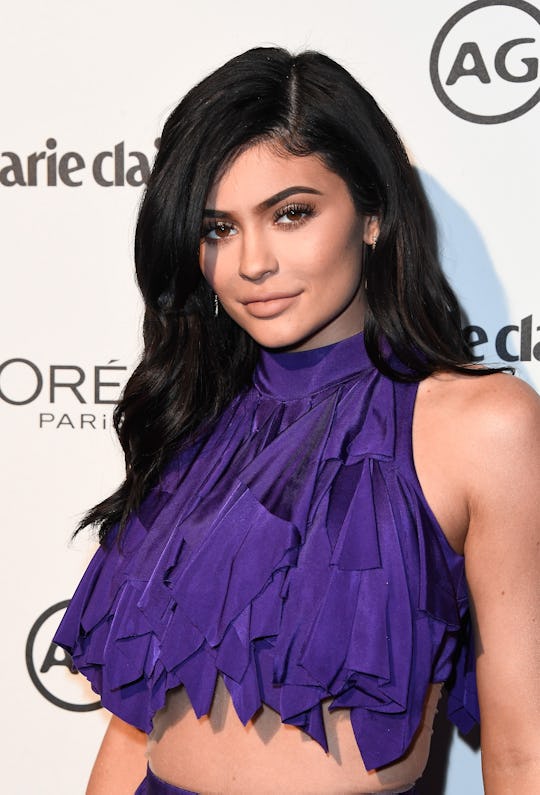 Frazer Harrison/Getty Images Entertainment/Getty Images
Are Those Paparazzi Photos Of Kylie Jenner's "Bump" Real?
Since September, rumors swirled that Kylie Jenner is expecting her first child with boyfriend Travis Scott. Jenner has yet to confirm the rumors, and has been able to stay out of the spotlight for the most part. But on Wednesday, paparazzi photos of Kylie Jenner's "bump" surfaced, according to Cosmopolitan, leading fans to ask if they're even real.
The photos in question show a person who appears to be Jenner standing at a considerable distance away from the photographer. The woman, who looks to have a baby bump, is dressed in a baggy gray hoodie and dark pants. She is walking around, talking on the phone, at what seems to be a catered function. Jenner — or whomever it is in the picture — is oblivious to the fact that she is being photographed, which make these newly-surfaced images extra creepy.
Again, Jenner has yet to confirm her reported pregnancy, so that alone makes it possible that these photos are altered in some way. Also, the images are heavily pixelated, suggesting the paparazzi had to zoom in real close or had a camera with a poor-quality lens. Either one of those factors can distort focus, meaning the image is not sharp enough to get a good look at the subject.
Then there's the fact that these paparazzi photos are from late September, and weren't resurfaced until recently by fans on Twitter, as noted by Cosmopolitan. The images are reportedly from a surprise birthday party Jenner threw for her best friend Jordyn Woods at Will and Jada Smith's home in Calabasas, according to initial reports by the celebrity gossip site X17.
A source at the party told X17 in late September,
Kylie definitely has a baby bump. She seems happier than ever, but also really distracted. Her antics with her friends have taken a back seat now that she's going to be a mom. She's very focused on her relationship with Travis and making sure they're good. She doesn't want to be a single mother at all. She was on the phone the entire party with him.
The images are suspicious, to be honest. Skimming through X17's photo gallery, you can see what seems to be a visible pregnant belly in most, if not all, of the images. They would be pretty compelling evidence that Jenner is pregnant. Why, then, would the photographs not be the impetus for the 20-year-old reality TV daughter to announce her pregnancy? You know, spin the story?
These images aren't the only photos to surface that reportedly showed Jenner's "baby bump." Back in November, The Daily Mail and X17 both published paparazzi shots of the Kylie Cosmetics founder in a black hoodie and black sweats. The angle of Jenner's body would make it appear as if Jenner is pregnant, or at least carrying more weight in her mid-section. But the outfit is baggy, which means the extra fabric is hiding Jenner's true body shape.
Jenner, for her part, denied that the photos were real. She took to social media quickly after the photos were published to claim that both outlets photoshopped the images to make her look pregnant, according to Refinery29. (The Daily Mail and X17 denied her allegations.) The reality TV star posted to Twitter on Nov. 5, according to R29,
First of all if you're going to photoshop my photos blogs/paps!! Check for the crooked lines in the background. 2nd photo is clearly altered.
Jenner also posted an image to Snapchat of her and her sister, Khloé Kardashian, at a convenience store that same day, possibly as proof that she isn't pregnant. But whether Jenner is pregnant shouldn't matter; it's her news to tell, and paparazzi shouldn't be taking clandestine shots of the 20-year-old reality TV celebrity. It's just creepy.
Check out Romper's new video series, Romper's Doula Diaries:
Watch full episodes of Romper's Doula Diaries on Facebook Watch.