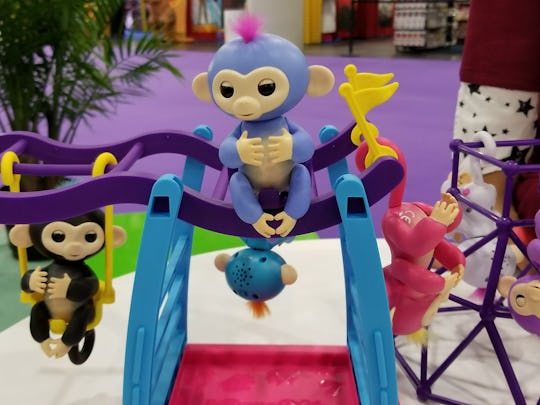 Courtesy of Mishal Ali Zafar
Looking For Black Friday 2017 Deals On Fingerlings? You May Be Out Of Luck
Every year, a toy comes along that drives kids crazy with excitement and sends their parents hunting. One of this year's hottest toys is Fingerlings, and they are sure to be on the wish lists of kids everywhere. With all the Thanksgiving sales coming up, many parents must be wondering if there are any Fingerlings Black Friday 2017 deals so they can pick them up at a great price just in time for the holidays.
If you've been trying to get your hands on one of these little monkeys, you might have noticed that they have been flying off the shelves, which is probably why there aren't any Black Friday deals for Fingerlings this year. It can be frustrating when the one toy your kid is dying to get for the holidays seems continually sold out, but there are still a few ways to nab a Fingerling in time for Christmas — they just may require a little extra effort.
So why are Fingerlings so popular? On the surface, they are adorable little monkeys that can cling or hang onto your finger, or other surfaces like notebooks, pencils, or anywhere else you can fit them. But not only are they cute, they are actually interactive robots that can respond to gestures and motions with over 40 different animations and sounds. And with a price point of $15, they are super affordable, which is why they are selling like hotcakes.
Unlike many other robotic toys, Fingerlings are also very easy to play with, which is great for little ones. Many tech toys have a learning curve, or require sequences of gestures, making them frustrating to enjoy. But Fingerlings are pretty simple and straightforward to play with — they have two motion sensors on their heads that respond to your voice and touch. For example, If you blow a kiss at your Fingerlings, they will kiss you back, and if you rock them gently, they will fall asleep. They may even burp and fart as they turn their heads and blink their eyes, so what kid wouldn't fall in love?
The manufacturer of Fingerlings, WowWee, offers the monkeys in six different colors — Bella (pink), Boris (blue), Finn (black), Mia (purple), Sophie (white), and Zoe (teal). If you can't find them in stock anywhere, don't fret, because there is a new Fingerling, Kingsley the Sloth, that will be released in November exclusively through Walmart. Similar to the other Fingerlings in the line, Kingsley responds to sound, motion, and touch with blinking eyes, head turns, and silly sloth sounds. But according to WowWee, because Kingsley is a sloth, he moves 20 percent slower than the other Fingerlings, embracing his true sloth nature.
If you aren't able to get your hands on Kingsley, or any of the other Fingerling monkeys, you can always turn to resellers on Amazon and Ebay, but you may be paying two to three times the retail price. You can always take a weekly trip to your local Toys "R" Us or Walmart to check for restocks, too, and you can use websites like Zoolert and NowInStock to keep an eye on online availability. The websites even allow you to set up text and email alerts that can give you a chance to pounce on a Fingerling as soon as it becomes available.
There will always be toys that become popular, then elusive. Parents went nuts looking for Cabbage Patch Kids and Tickle Me Elmo, Hatchimals and Nintendo NES Classics, but eventually, when the holidays are over, they become easier to find. So if you aren't able to pick one up in time for the holidays, you may be able to nab one afterwards. Either way, your kid will thank you.
Check out Romper's new video series, Romper's Doula Diaries:
Watch full episodes of Romper's Doula Diaries on Facebook Watch.