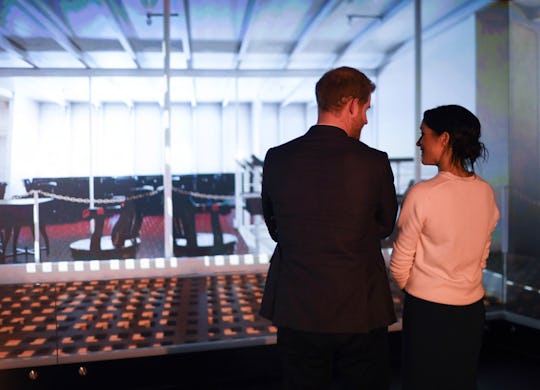 Pool/Getty Images Entertainment/Getty Images
More Than A Few Kids Will Attend The Royal Wedding, But Where Are The Babysitters?
Saturday, May 19, Prince Henry of Wales will wed Meghan Markle at St. George's Chapel at Windsor Castle. The event will no doubt be an extravagant affair, brimming with centuries' old traditions and carefully staged etiquette. The exclusive royal guest list undoubtedly includes those with children, namely The Duke and Duchess of Cambridge, Prince William and Princess Kate, and two of their three children. So, are there babysitters at the royal wedding, or is everyone required to watch their own little ones?
According to The Knot, there are a number of royal wedding traditions and protocols the lovebirds must follow. According to Care.com, Tom Pettifer, the 8-year-old son of Prince William's nanny, Tiggy Legge-Bourke, will be a pageboy. In fact, according to British tradition children have always played important roles within the wedding and wedding party. From flower girls to ring bearers, WeddingWire says a wedding party is generally "made up of the couple's nieces and nephews, godchildren, cousins, children of close friends or their own kids, and can be as young as 2 and as old as 17." It's also been confirmed that Markle won't have any adults in her wedding party, as she has said she didn't want to choose between her friends. She will, however, have a party consisting largely of children, all as page boys and flower girls.
For the uninitiated, a royal wedding is a series of events (as opposed to a typical U.S. wedding and reception, with less formalities and tradition) within the main event — a daytime ceremony breakfast and evening reception, for example — and, as far as protocol goes, children aren't directly prohibited from attending. The choice is largely up to the bride and groom on how many children, if any, will occupy any of the 600-count guest list, with 200 of them being close family and friends for at least the private ceremony. Friend of Markle's, Jessica Mulroney, is a mom to 7-year-old twin boys who, according to Town & Country, will also be attendance, as well as any of Prince Harry's godchildren.
So while former nanny's will be present as guests, it's assumed that they will not be working. So, for now at least and according to recent reports, the jury is out as to whether or not there will be a paid-for babysitter, or nanny, at the royal wedding to help tend to the young guests. In the end, as always, it's up to the parents. Go figure.
The role of a royal nanny has evolved over the years to adapt to the times and the needs of the royal family. Still, royal nannies are very "hands on" and, as result, become a central part of the family itself (as opposed to only hired caretaker). Prince William and Kate's full-time nanny, Maria Teresa Turrion Borrallo, has cared for both 4-year-old Prince George and 2-year-old Princess Charlotte, and will also be in charge of Prince Louis while the rest of the family attends to the ceremony.
With so many children both inside the royal family, and part of the ceremony as ring bearers, flower girls, and pageboys — as well as guests themselves — this wedding will likely have its fair share of little ones. As far as babysitters go, the royal nanny is the only "babysitter" who may or may not be required on site, and she'll have her hands full tending to, well, the royals. And since the not-yet-vaccinated Prince Louis will be far away from the affair, it's assumed the royal nanny will not be on site, either.
But as far as civilian guests and their small children? Well, they're likely on their own and can hire a babysitter on their own dime, or put in the work and tend to their children themselves. In exchange for witnessing the wedding event of a lifetime, I'd say it's all worth it.