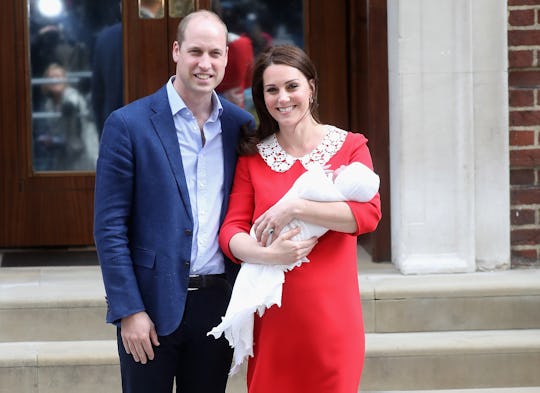 Chris Jackson/Getty Images Entertainment/Getty Images
Here's Why You Won't See Prince Louis At The Royal Wedding
You've probably heard that Prince Harry of Wales, grandson of Queen Elizabeth II, will wed American actress Meghan Markle in a ceremony on May 19, 2018 at Windsor Castle. The event is bound to be a spectacular, fairy-tale-like affair. So, you might wonder if Britain's newest royal, and Prince Harry's nephew, Prince Louis, can go to the royal wedding. Turns out, the newest royal addition will be missing out.
Yes, everyone who wants to get their next glimpse of the adorable little prince will have to wait. As Town & Country reports, Kensington Palace has confirmed in a statement that Prince Louis, the youngest child of the Duke and Duchess of Cambridge — Kate Middleton and Prince William — will not be in attendance at the royal wedding, for a very good reason. Since he was just born April 23, 2018, he will be less than 4-weeks-old on Markle and Prince Harry's wedding day. As a result, he is much too young to attend the blessed event.
According to the National Health Service of England, babies in England don't receive their first "jabs," or immunizations, until they are 8-weeks-old. So, until the young prince is older, and his immune system is more robust, his parents understandably don't want to risk exposing him to potential illness.
As to pediatrician Yael Wapinski, M.D. told babble.com, it's important for new parents to be cautious about where they take their babies. It's generally OK and sometimes unavoidable to take your newborn baby out in public. It's also good for new moms to get out of the house, at least once in a while. However, Dr. Wapinski advises parents to avoid taking their babies to crowded places until they are at least 2- or 3-months-old.
Babies have brand-new immune systems that are just "learning" to protect their bodies from bacterial and viral infections, making them more susceptible to illnesses. Wapinski recommends that all parents be smart about when and where they take their newborns. He adds that it's smart to avoid busy times of day at the store, and crowded places like malls, airports, and, you know, Windsor Castle during a royal wedding ceremony.
According to the National Health Service of England (NHS), it's recommended that British babies receive a number of important vaccinations when they are 8-weeks-old, to protect against preventable illnesses like diphtheria, tetanus, whooping cough, polio, haemophilus influenzae type b, hepatitis B, pneumonia, rotavirus, and meningitis.
Because Prince Louis will only be 4-weeks-old on Markle and Prince Harry's wedding day, he also won't have received the recommended immunizations yet, and his parents have decided to not take a risk with his health. Which is pretty smart, as people will be attending the royal affair from all over the world.
Leaving their newborn at home will not only protect Prince George from getting sick, but it will also free up Middleton, who, according to Town & Country, will not be in the royal wedding, to tend to his older siblings, Princess Charlotte (age 3) and Prince George (age 4). Not to mention a chance to get out of the house sans newborn, which can be pretty hard to do four weeks after giving birth.
According to Brides.com, many American brides are now opting to exclude kids from their wedding guest lists entirely, for a number of valid reasons. Namely, weddings are boring and might not be a good time for your little one, royal or not. A fact that Middleton knows all too well. Just a year ago Prince George threw a royal tantrum at aunt Pippa Middleton's wedding to James Matthews, which made me feel so bad for his mom, and grateful that I'm not a member of the royal family.
As cheatsheet.com reports, Markle and Prince Harry are opting to stray from convention with some aspects of their ceremony — Markle's mom Doria Radlan will walk her down the aisle, instead of her father. They are choosing to include children in their ceremony, as is British custom, too. Unlike their baby brother, Prince George and Princess Charlotte will be in attendance, and will join other children in the wedding party as a page and a bridesmaid.
Fans of the royal family are likely to have plenty to take in at the royal occasion. They will just have to wait a little bit longer to gaze adoringly at Prince Louis's chubby cheeks.