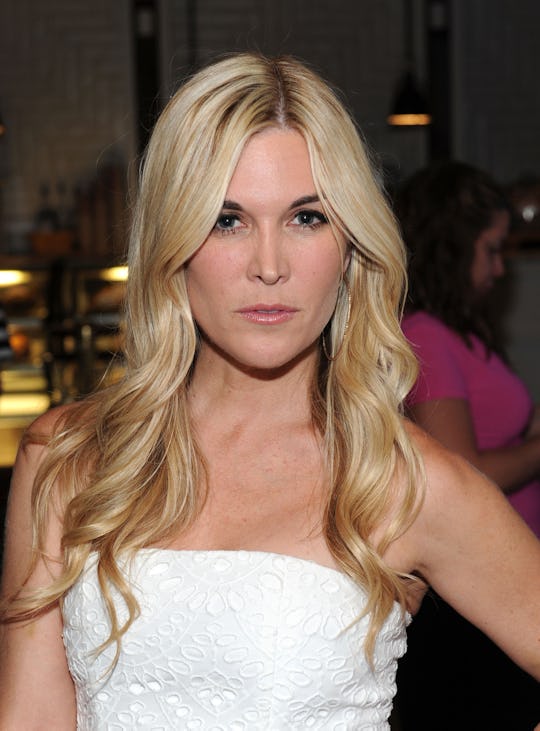 Craig Barritt/Getty Images Entertainment/Getty Images
Did 'RHONY' Star Tinsley Mortimer Ever Get Engaged To Scott Kluth?
Tinsley Mortimer has blossomed from unsteady Real Housewives newcomer to a quirky, beloved fan favorite this season, so it's no surprise that viewers are rooting so passionately for she and on-again-off-again boyfriend Scott Kluth to tie the knot. So are Tinsley Mortimer and Scott Kluth engaged on RHONY? Unfortunately, she just announced in an interview as a guest on Watch What Happens Live that the couple is in an off-again phase.
In a recent episode of Real Housewives of New York, we saw Tinsley follow up with her fertility specialist on creating embryos out of her frozen eggs, and also "play" in a bridal shop with her mom Dale Mercer, despite the fact that she didn't have a ring on it quite yet. Ironically, the scene immediately followed one in which Tinsley got mad at her mom for accidentally putting pressure on her relationship in front of Scott and his mother, when pressure had been something the couple was struggling with.
Apparently, when the two families were spending time together over Thanksgiving, Scott's mom remarked that he had plenty of time to worry about having kids. Dale, rightfully so, interjected that Tinsley did not have a lot of time, so Scott had some thinking to do about whether he wanted to commit or let Tinsley go. Honestly, it was a fair point to make. It was insensitive for Scott's mom to flaunt her son's reproductive freedom and privilege in front of Tinsley and her mother, who have clearly put a lot of money, time, and effort into preserving her fertility as best they can.
Unfortunately, Scott and Tinsley's relationship already tends to buckle under pressure — whether it be the pressure of marriage, kids, or keeping up a long-distance relationship — so Dale's comment, even though she was looking out for her daughter, touched an already raw nerve in the relationship. Ultimately, if Tinsley asks her family to be gentle around the relationship, her wishes should be respected. (But also, maybe just get with a guy who wants kids as much as you do?)
Anyway, these mounting pressures seemed to finally catch up to the couple, who met back in Season 9 through Carole Radziwill. Fans got to watch their first date — a double date with Carole and Adam — and even their first kiss. Viewers were super invested in the relationship, which we learned ended at the beginning of Season 10. But over Thanksgiving, which Tinsley and Scott spent together, they appeared to reconcile. He came into town for a visit (which we saw unfold on camera), and it seemed like things were on the up and up.
But on the June 21 episode of Watch What Happens Live, Tinsley confirmed a recent breakup. "Today is an odd day — the media is reporting that we did break up and it's true," she revealed. "We are on a break right now. Look, it's so hard to be in a relationship, particularly when we don't live in the same town. He's in Chicago, so busy with CouponCabin."
Andy Cohen asked if the couple had split permanently, though, or if they were merely on a break.
"We're broken up right now," Tinsley said. "But I'll tell you this: we break up all the time."
Although Scott seems to really adore her, and fans are understandably rooting for the couple to work it out, it would be great to see Tinsley end up with someone who wants and is ready for the same things she is. If Scott isn't there yet, that's okay! But it isn't Tinsley's responsibility to wait for him and give up her dreams of having babies.