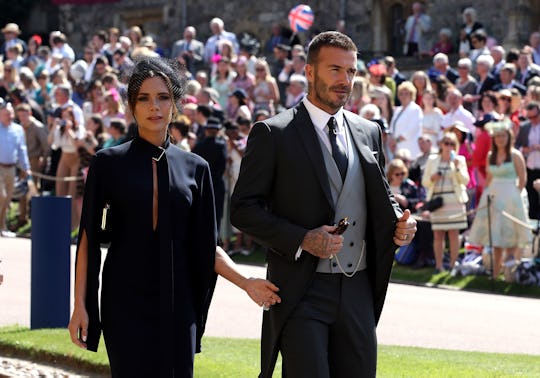 WPA Pool/Getty Images Entertainment/Getty Images
The Royal Wedding Was A Little More *Posh* With These Two In Attendance
If you can't have a royal wedding without millions of people watching from the comfort of their homes, then you also can't have a royal wedding without some huge celebrities in attendance. Two of the more well-known celebrities who have a strong connection to the royal family are Victoria and David Beckham. So now that Prince Harry and Meghan Markle's big day is finally here, are Victoria and David Beckham at the royal wedding? They've grown close to the royal family over the years and were definitely invited, so you'd certainly think that they'd be in attendance. And as viewers saw at the start of the wedding proceedings Saturday, the Beckhams were definitely there, looking chic as ever.
Back in 2011, the A-list couple attended the other glorious royal wedding of our generation, when the Duke and Duchess of Cambridge, Prince William and Kate Middleton tied the knot. Since then, Victoria and David have grown closer to not only them, but other members of the royal family. In fact, David even referred to both Prince William and Harry as his friends in an Esquire interview back in 2013. "We've done a lot of functions together. It's a very normal relationship," he said. "With Harry, as well. They're very easy to get along with. They love their sport. William loves Aston Villa [soccer team], unfortunately, which obviously I give him a bit of stick about."
So it came as no real shock when it was announced that David and Victoria were invited to celebrate the royal nuptials, especially since Victoria has also managed to develop strong ties with the royals over the years.
A source revealed to Vanity Fair in February that Victoria and Markle had become close since Markle officially moved to England and that Victoria had even given her fashion advice. Additionally, Middleton has even been known to carry bags from Victoria's fashion line, so the Beckhams are definitely on good terms with the entire family.
Ahead of the royal wedding, Victoria was pretty mum about whether or not she would be in attendance, even though she and David had been guests at Prince William and Middleton's nuptials years ago. However fans and even James Corden predicted that she and David would be there after she appeared on his show in April and essentially gave an "um, er" type of response when she sputtered, "I don't know." Of course, Cordon called her out right away and she all but confirmed at the time that she would be going.
It's nothing new for celebrities to attend royal weddings and there were expected to be a ton of them at Prince Harry and Markle's. Quantico star Priyanka Chopra was expected to attend, given that she and Markle have been close friends for years, and Harper's Bazaar reported that the Spice Girls would be on hand to perform at one of the receptions following the wedding ceremony. Naturally, Posh Spice herself had to be at the wedding too.
As it stands, this really is a pretty epic royal wedding. Not only has Prince Harry finally married, but he fell in love with an American, which just isn't the norm for the royal family. Because of the excitement surrounding this wedding in particular, it wasn't all that surprising that so many celebrities were there, let alone David and Victoria Beckham, who are basically honorary royals themselves at this point.