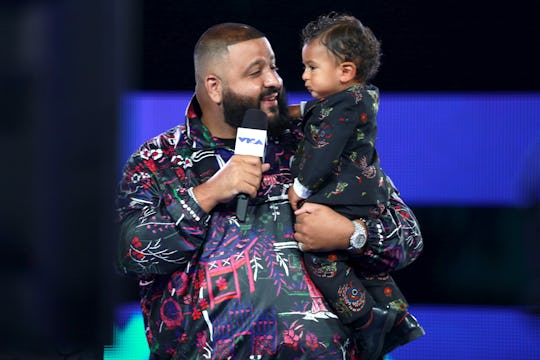 Rich Fury/Getty Images Entertainment/Getty Images
Asahd Khaled's Showdown With Katy Perry's Fake Baby Made An Important Point
There are two things that will make people melt: Dogs and babies. On social media, they've even become accessories of sorts. That's why Asahd Khaled's showdown with Katy Perry's fake baby at the VMAs may have been light-hearted, but made a good point.
The skit went like this: Perry, standing on stage, is wearing a sparkling blue dress and holding a fake baby in a chest carrier. Looking into the camera, Perry said,
My management told me I should have a fake baby to increase the publicity and have more followers. ... This is Bella, sponsored by Fit Tea.
Enter DJ Khaled, who comes on stage holding his adorable son, Asahd, to finished up the skit. If you've followed DJ Khaled for a while, you'd know that his son is almost always by his side. As much as people love DJ Khaled for his incredible talent, they can't help but gush over the entertainer's little one. In fact, Asahd often steals the show.
That brings us back to Perry's joke. It may not have landed the way anyone hoped, but it made a good point about how children have become social media commodities on social media. Just think about all those baby photos and videos floating across Facebook.
According to TODAY, nearly 40 percent of millennial moms have created social media accounts for their kids, all before their first birthday. There are different reasons for why they do so; some want to share updates with family and friends, others want to document the cute things their tots do, TODAY reported.
But it's hard to deny that, like animals, babies bring in the followers. And they can also help bring in cash. Earlier this year, Parents profiled six moms on Instagram who became social media influencers and built up successful brands by, in part, sharing images and videos of their children.
It doesn't always end well. Heather Armstrong, the so-called "Queen of the Mommy Bloggers," chose to quit social media because the demands from corporate sponsors became too much, according to The Guardian. She told the outlet,
At the beginning it was, 'We're just gonna put the logo at the end of the post...' And then it was, 'Well, actually, we need you to show pictures of the product.' And then it was, 'We need your kids involved in the post.' I cannot be that person anymore.
Although Perry's light-hearted joke bombed, she at least put a spotlight on an important issue. Children, in the age of social media, can fast-track you to popularity, at the expense of their privacy.