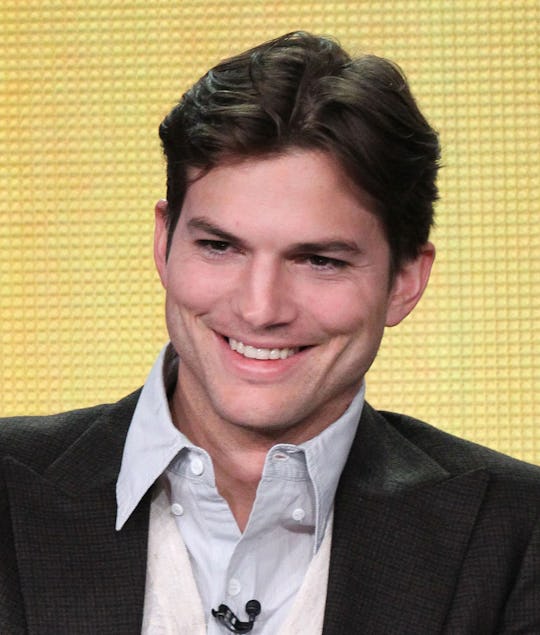 Frederick M. Brown/Getty Images Entertainment/Getty Images
The Reason Ashton Kutcher Won't Share Photos Of His Kids Online Is One Every Parent Should Consider
If you've been following actor Ashton Kutcher on Instagram or Twitter, you might notice something you've never seen in any of his posts: His two children. In a recent interview with Arianna Huffington for the Thrive Global podcast, the Jobs actor opened up about why fans never see pictures of his kids online — at least those posted by him or his wife and Bad Moms actress Mila Kunis. Ashton Kutcher doesn't post about his kids on social media for an actually pretty common sense and totally refreshing reason, especially given the inundation of parents posting about their kids online.
Kutcher and Kunis are parents to two children together, 3-year-old daughter Wyatt and 11-month-old son Dimitri. Thanks to their celebrity status, cameras are never far when the family is out in Los Angeles, so it's inevitable that photos of their kids have been published online. But it's that very reason — celebrity — that drives Kutcher and Kunis' personal decision not to post about their kids on social media. "My wife and I have chosen a career where we're in the public light, but my kids have not," Kutcher told Huffington. He continued, "It's their private life; it's not mine to give away."
Part of what makes Kutcher so protective of his two kids is just how seriously he takes his job as their dad. "I'm Wyatt and Dimitri's dad," Kutcher said. "That's my number one gig. Everything else is secondary." His comments about his children's privacy online are incredibly thoughtful and some might even say disruptive, compared to what seems the ubiquity of parents posting about their kids on social media. "I think [my kids] should have the right to choose that," Kutcher told Thrive Global. "I actually don't think that they should have images of them as children that are out there, that somebody could potentially blackmail them with."
With regard to internet privacy for their children, Kutcher and Kunis have even gone so far as to snap up the domain name for their daughter, Wyatt Isabelle. While at first you might think Kutcher is being overprotective or paranoid, his reasoning is pretty solid.
In 2014, shortly after the birth of his daughter, Kutcher appeared on Conan, telling the late-night host how he went ahead and bought the domain names for his daughter as soon as she was born. "We immediately went home and we reserved all the domain names. We got the Twitter handle, the Instagram — everything that you could possibly [have]," Kutcher told Conan O'Brien. "I don't want a porn site with my daughter's name on it. It's unacceptable to me and it's not gonna happen."
Child privacy concerns for celebrity parents are a sad reality, unfortunately. Kutcher and Kunis are just one Hollywood set of celebrity parents who are fiercely protective of their kids' privacy — but it's a movement that's been growing. When The Office actor John Krasinski welcomed the birth of his daughter Hazel in 2014, he posted her first photo to Twitter, tweeting, "Pics of kids should only come direct from parents." For Kutcher and Kunis, they take it a step further by choosing not to post any photos of their kids online. However, among their children's grandparents, Kutcher and Kunis use their own private social media network to share photos of and other updates about Wyatt and Dimitri, according to his Thrive Global interview.
Even if Kutcher didn't share any photos at all of his kids, that would be his right as their parent. What makes Kutcher's comments about maintaining his kids' privacy online so thought-provoking is that he isn't saying this is what all parents should do — instead, this is what works for him and his family. But his comments definitely give me pause to think about how I share photos on social media of my own child, and it might be something worth considering next time you go to hit "Share" on that photo of your kid on Instagram.
Watch Romper's new video series, Romper's Doula Diaries:
Check out the entire Romper's Doula Diaries series and other videos on Facebook and the Bustle app across Apple TV, Roku, and Amazon Fire TV.