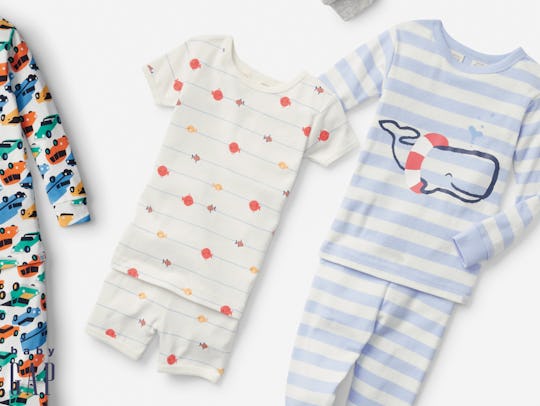 Courtesy of babyGap
BabyGap's New Pajama Subscription Service Gives Parents One Less Thing To Worry About
There's basically nothing that warms a parent's heart more than the sight of a baby or little kid in pajamas (and not just because when they're wearing pajamas they're likely to also be sleeping). With their whimsical prints and patterns, there's just something about cozy kid pajamas that represents all the best parts of childhood, and it's so much fun to dress your little one in the cutest pajamas you can find. That's why babyGap's new pajama subscription service is basically the best thing ever: Along the same lines as babyGap's original Outfit Box, the BedtimeBox will bring adorable sleep sets straight to your door every three months, and the contents will always be a delightful surprise.
The way it works is simple: As with the babyGap Outfit Box, all you have to do is choose your child's gender and size (from 6 months to 5T), then Gap's brilliant stylists will take over and choose three perfect pajama combos for your box. Each box costs $49 for three sleepwear sets — a significant savings of 40% off the full retail price. (And just in case you're not happy with your picks, returns are free.) Except, you'll probably be happy with them, because just look at how sweet these are:
"We've been testing the babyGap Outfit Box for nearly a year, and have been seeing high retention rates and low return rates. And we've been able to learn a lot about what our customers are looking for when it comes to outfitting their baby or toddler," Margaret Yang, Senior Director of Buying, Gap Kids & Baby Online, said in a press release. "The new BedtimeBox is another way for us to move closer to the customer, and fulfill their needs with sleepwear, which is a category we know parents need to restock constantly as their child grows."
That "restocking constantly" thing couldn't be more true. I don't know how it's possible, but I swear sometimes you can put your kid to bed in pajamas that fit, and suddenly the next morning they're two inches too short. Naturally, that's true of all baby clothes... hence the popularity of the original Outfit Box.
"The babyGap Outfit Box has gotten very positive feedback from parents, so we wanted to test out a new model and see if parents would appreciate a subscription that helps bring them adorable sleep styles straight to their doorstep," Moneeza Popatia Choi, senior manager of corporate strategy and innovation at Gap, Inc., told FierceRetail.
And there might even be a few unexpected perks planned for subscribers.
"We plan to test new ways to engage customers — whether it's through a new subscription like the BedtimeBox, or offering our members other fun surprises," Choi said. "In the last babyGap Outfit Box, the free surprise gift was a pair of Disney socks and we're looking at having our next free gift be an item that hasn't even hit stores yet."
So who knows what might show up in your quarterly box of pajamas! It makes perfect sense that this approach would be a hit with parents: The subscription box craze has basically expanded to include every sector of the retail market, from hot sauce to socks to K-Beauty products to art supplies. Why? I'm no expert on retail trends, but I do know that it's really, really fun to get surprise presents in the mail (even if technically you paid for those presents yourself).
And just in case you're not already familiar with the specifics of the babyGap Outfit Box, it's essentially the same concept except with non-pajamas, and more of them: Each box contains six pieces of seasonally-appropriate apparel that can be mixed and matched (and though the price tag is higher, at $70, the contents are valued at over $100).
After taking a babyGap Outfit Box quiz, stylists will choose baby apparel and accessories that fall into one of several categories: "Classic," "Fun," "Surprise Me," as well as "Newborn Essentials" (oh, those teensy little onesies!). Clothes are available in sizes ranging from 0 months to 2T, and the babyGap Outfit Box will automatically update sizes for the subsequent boxes based on the size you select when you sign up.
So not only does this whole concept make shopping for baby clothes more fun, it's incredibly convenient, too. (Let's face it: Shopping in actual stores with actual babies is not always the easiest thing in the world to do.)