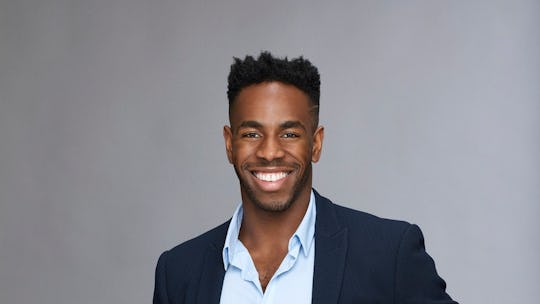 Craig Sjodin/ABC
'Bachelorette' Producers Respond To Lincoln Adim's Indecent Assault Conviction
News broke on Wednesday that The Bachelorette contestant Lincoln Adim was reportedly charged with indecent assault and battery last month following an incident in 2016. Hours later, as TMZ intially reported, producers for The Bachelorette responded to Adim's indecent assault conviction in a statement to the media.
Jake Wark of the Suffolk County District Attorney's Office shared with Romper in a statement earlier on Wednesday that Adim was found guilty on May 21 of this year of "indecent assault" and "battery" for groping and assaulting a woman on a harbor cruise ship on May 30, 2016. Romper reached out to Adim's attorney directly for a statement regarding the conviction, but they declined to comment.
Later on Wednesday evening, Warner Bros. studios told Romper in a statement that "no one on the Bachelorette production had any knowledge about the incident or charges when Lincoln Adim was cast, and he himself denied ever having engaged in or been charged with any sexual misconduct." The statement continued:
We employ a well- respected and highly experienced third party who has done thousands of background checks consistent with industry standards to do a nationwide background check in this case. The report we received did not reference any incident or charge relating to the recent conviction — or any other charges relating to sexual misconduct. We are currently investigating why the report did not contain this information.
ABC did not immediately respond to Romper's request for comment.
According to Wark's statement obtained by Romper, Adim — who is originally from Nigeria and currently works as Account Sales Executive in Los Angeles, according to his biography on ABC — "was sentenced to one year in a house of correction, with that term suspended for a two-year probationary period." The statement further explained:
The judge ordered him to stay away from the victim and attend three Alcoholics Anonymous meetings per week during those two years. If he complies with the judge's orders, he will not have to serve out his term, but if he fails to comply with those orders or re-offends, he could be ordered to serve out the year behind bars. By law, he is expected to register as a sex offender.
As of right now, Becca Kufrin, this season's bachelorette, has not eliminated Adim from the show. News of Adim's legal trouble and arrest were first reported by Reality Steve, a blog focused on reality television, on Wednesday morning.
Cast members on The Bachelor or The Bachelorette must reportedly go through intense screening processes, which include testing for sexually transmitted infections and other personal details, according to the eligibility requirements shared on the show's casting website. Those same requirements do also note that applicants cannot have been convicted of a felony or "must never have been convicted of a misdemeanor or ever had a restraining order entered against them."
Pending charges do show up on most criminal background checks, according to Criminal Watch Dog, but it depends on the type of charge or the specific county the charges are filed in and the county that the person requesting the background check specifies. Given the timing of the incident, the fact that the charges were filed in Suffolk County, and that Adim is currently settled in Santa Monica, California, it's entirely possibly that Warner Bros.'s casting department did not have all the necessary information when it first conducted Adim's background checks, as noted in the studio's statement.
Given viewers' thirst for everything Bachelor Nation, more information is likely forthcoming about what exactly happened, though it's not clear at the moment how the news surrounding Adim will be addressed on upcoming episodes on The Bachelorette.