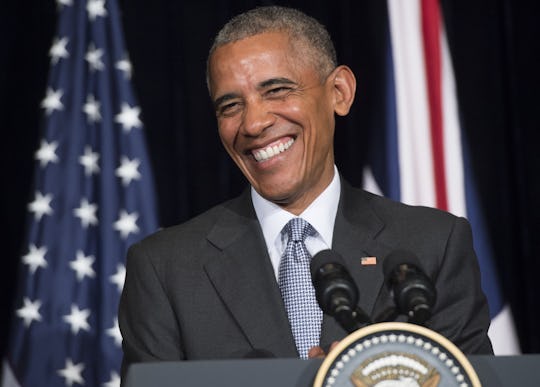 SAUL LOEB/AFP/Getty Images
Barack Obama "Subbed" At A DC School This Week & Dropped Some Knowledge
President Obama has had a great past few months. Since leaving office, he's vacationed with friends, spent time on a yacht with Michelle, dropped Malia off at Harvard University, and is now back in Washington D.C. Just like kids all over the country, the president went back to school last week, too. Yup, Barack Obama "subbed" for a teacher at D.C. school on the first day and gave some students an uplifting speech for the upcoming year.
Because, well, that's what he does. Apparently, Obama just waltzed in right into McKinley Tech and asked students if he could sit in with them. The students were reportedly shocked for a few minutes (uh, who wouldn't be?) but then let him post up in their classroom.
He addressed the classroom full of teens and said:
One of the things I did throughout my presidency was I'd meet with groups of young people everywhere I went, whether it was here in the United States or when I was traveling overseas. Just to kind of hear from them, find out what they're interested in, because I do believe that most of the problems we have are going to be solved by you.
So, simply, "Yes, you can, McKinley Tech."
He later said, "These young people that I met at McKinley Tech today are the reason I'm hopeful about the future. To all the young people headed back to school around the country: Make us proud. You're the next generation of leaders, and we need you."
That, of course, is an understatement. After disappearing a bit from public life post Donald Trump's inauguration, Obama has slowly been making more and more appearances in public and speaking out on the issues he cares about.
Last week, just before his McKinley visit, Obama tweeted about the Trump administration's decision to roll back the Deferred Action for Childhood Arrivals program, calling it "cruel." He's also been tweeting to the victims of Hurricanes Harvey and Irma, so he's definitely paying attention to current events and how Americans are feeling.
His visit to MicKinley was a reminder of that, and a statement to his legacy as a former president. Among all of his other policies and the day-to-day politics of being in the White House, Obama's message to Americans was always about getting motivated and changing things. That's not a bad message for a bunch of teenagers to hear on their first day of school. Maybe he should do a tour of all the public schools, seeing as he has some time on his hands now.