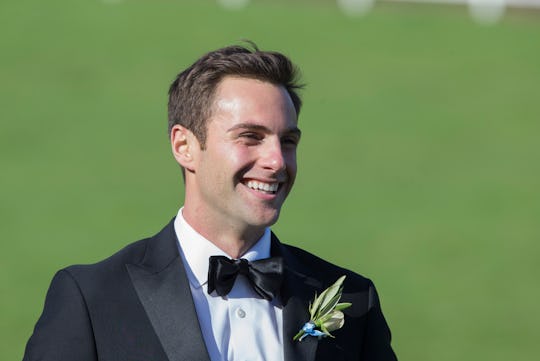 Paul Hebert/ABC
Becca Sent David Home In A Surprising 'Bachelorette' Two-On-One
Surprise eliminations aren't anything new in The Bachelor franchise, but when Becca eliminated David on The Bachelorette two-on-one Monday night, fans everywhere were pretty shook. No one expected him to be the one to go home when Jordan was the easier one to root against during the date and during the season so far. Honestly, neither man really made themselves look good when pleading their respective cases to Becca, but during the desert date, Becca couldn't get past David's attitude about Jordan.
From David's perspective, Jordan wasn't there for the right reasons. He claimed Jordan had already bragged about his experiences with other women and said that women at the hotel were checking him out (and vice versa). Of course, when it came time for Jordan to defend himself, the story was a little different. And then David's second time claiming that Jordan had described Becca as someone he might "settle" for was a little different than the first time he explained it. Things were kind of all over the place and by the end of the date, Becca was clearly more confused than ever.
Luckily, Jordan had opened up to her a little more and because of that, she allowed him to stay on and instead sent David home. Perhaps if he hadn't spent the entire date talking about someone else, he might have been able to salvage his relationship with Becca.
Usually, the whole point of a two on one date on The Bachelorette is to officially end a feud and help the Bachelorette herself make the right decision between two warring contestants. In Becca's case, she chose someone that literally no one was expecting, even if she did eventually send Jordan home ahead of the rose ceremony anyway.
For the majority of David's time on The Bachelorette this season, he seemed like he could go far, especially as he'd refrained from ruffling too many feathers. In fact, the only person he really had any issues with was Jordan, who some of the other guys weren't really fans of anyway. That could have — and probably should have — worked in David's favor, but he painted himself in a competitive and petty light on that two-on-one date.
During the date, while David spent all of his alone time with Becca talking badly about Jordan and trying to make Becca see what he saw in the guy he described as a "golden underpantsed clown," that clown was actually doing the exact opposite during his time with her. When he got a turn at speaking with her, he defended himself and actually opened up about his family and tried to explain who he is and where he's from, which is obviously the only thing that saved him over David.
I honestly thought that neither guy would survive the date, and as we saw later on, even Jordan went home. But on the date, it was definitely shocking that David was the one left alone in the desert.
Maybe if Jordan hadn't rubbed David the wrong way, it would have been someone else on the much anticipated two-on-one of the season, but because of their ongoing issues with each other, there really was no other way to put it all to bed. What Bachelor Nation definitely did not expect was seeing David go home. But with both of the contestants now gone, at least some of the drama can be put behind Becca as she really narrows the rest of the guys down. And with nine of them left, we're at the halfway mark of the season and things are about to get very real from here on out.