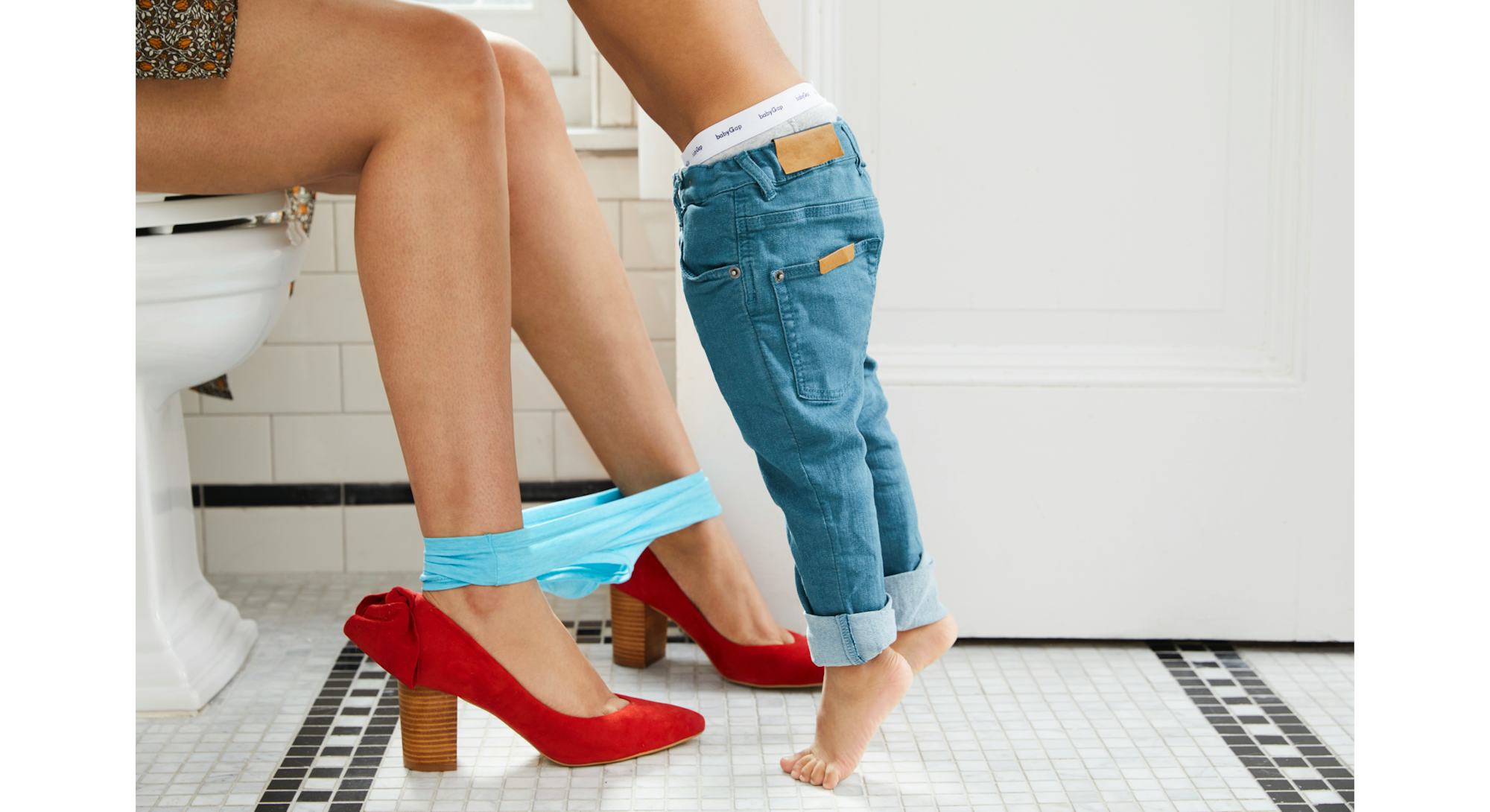 Photo credit: Winnie Au
Believe It Or Not, Millennials Actually Like Being Parents
I think people are mostly just okay, but when I see a baby strapped to her mom's chest or reclined in a stroller, staring at the world from behind shiny cheeks and surprised baby eyebrows, I am overcome by feelings of goodwill. I project that joy at the pair with not a small amount of force, smiling at the baby in a way that would terrify a grown stranger, and explaining, "I have one of those also," to the parent while gesturing at the empty space beside me where a child usually is. I could be a 30-something mother to a baby or a ghost referring to her 80-year-old son, but the point will always be the same: I want them to know I get it. Parenthood has changed me: on the outside, I look much the same, but on the interior I'm reupholstered, a better person. Sneaking in to check on my toddler the other night, he sat upright like a clown in a horror movie — a terrifying sight, a portent of the sleepless nights parents fear — and yet, as I watched his unseeing eyes probe the darkness and his tiny hands pat the mattress for the metal bus he likes to cuddle ("BUS," he uttered from the beyond), I could only think about how much I loved him, how smart I was to have had the idea to become a mom.
I am not supposed to feel this way. According to countless reports, I am supposed to be wrecked. Parenthood crops up in the media most often as a cautionary tale: "The Happiness Gap Is Real" for parents, crowed Quartz in 2016; "Parents Only As Happy As Their Unhappiest Child" warned The Atlantic. The BBC and Vice have each reported on "The Mothers Who Regret Having Kids," while the Washington Post has produced volumes on the fact that "Parenting Is Even More Daunting For Millennials Than It Was For Their Parents." And there are endless systemic reasons to believe those headlines: Pew research suggests happiness is slightly higher in couples without children (2012); education and child care comprise a much more vast portion of income for millennials; the gender pay gap is largely attributable to motherhood, and motherhood can push women, and their children, into poverty. Then there is the national crisis in maternal health, with black mothers being three times more likely to die in childbirth than white mothers, according to a report by ProPublica and NPR.
So, there are many reasons to be pessimistic. Still, 1.2 million millennial women had children in 2016, and 60 percent of millennials said being a parent is important to their overall identity in a 2015 Pew survey, in which they were also more likely (57 percent) to say they were doing a good job as parents than Gen X (48 percent) and Boomer parents (41 percent). Even as ruminations about mom-guilt, loss of identity, regret, and the death of your sex life after baby proliferate online, many millennial parents feel that parenthood represents a bright spot in a dark world — an opportunity for emotional growth and also solace that this kind of media coverage completely discounts.
"When I was 26 and pregnant, I avoided sharing the news broadly for as long as possible to avoid what I felt would be inevitable judgement," Ashley Stoney, a mother of two on the East Coast, wrote of her own experience in a commentary on widespread criticism of Kylie Jenner's decision to become a young parent at 20 — judgement that Jenner anticipated in keeping the entire pregnancy a secret. Fellow millennial Cardi B, who also delayed the announcement of her pregnancy, told Jimmy Kimmel recently that she was completely taken with motherhood, despite the difficulties: "It's like, oh my gosh. I should've had you when I was a teenager."
Brooklyn copywriter Dan Rozier, 30, says that when he and his wife announced, they were met with semi-shock. "Everyone acted like we were going to raise a baby on the moon."
Earlier this year, Romper lifestyle editor and mother-of-two Samantha Darby sashayed into the controversy of Catherine, the Duchess of Sussex, appearing on the steps of the Lindo Wing just hours after delivering Prince Louis looking happy, well-shod, and groomed. "People were furious," Darby noted at the time, explaining that "an unintended consequence of this often-gritty realness [around parenting] is cynicism around positive representations of motherhood."
"It is important that we, as mothers, pay attention to the way that we are triggered when hearing other mothers express their parenting journey," says Kristen Coggin, a certified positive discipline educator and mother of two in North Carolina, by email. Enthusiastic parents like my colleague are often met with derision, but they aren't trying to be contrarian; they know it can be hard. Obviously.
We have every reason not to have children, but we do it anyway. If anything, we wish we could have more kids: a quarter of respondents to a New York Times survey said they had, or planned to have, fewer children than they deemed "ideal." (Not for nothing, Diablo Cody, creator of the most depressing movie of 2018 about motherhood, Tully, encouraged me to have a third kid.) For this piece, I spoke with and surveyed dozens of parents about their experiences. The word that came up again and again regarding people's expectations prior to entering parenthood was "hard." Yet the lived experience was much richer in contrasts: worry and joy, intense exhaustion and love, fear of the unknown and unforeseen hope. Many, many parents described the experience as transformative and overwhelmingly positive, despite the challenges.
The aspect of parenthood that most surprised writer Aimee Christian, a mother of two who lives in Massachusetts, was the way it would, rather than dredge up the past, allow her to "let go of some of my own garbage and baggage. Being a good parent and having a loving family of my own makes up 1,000x for being parented horribly," she said via email. Motherhood had been undeniably hard, but "incredible… truly life-changing," as another respondent put it. Parenthood is frequently a gateway to massive personal and spiritual growth, and never-before-experienced levels of love, hilarity, and ability to live in the moment. So why do we feel compelled to add a caveat — "of course, it sucks" — when we discuss this experience?
We are all about the moment in 2018. Millennials, more than any other generation, have embraced the message that experiences outweigh possessions. In response, enterprising folk have come up with a number of experiences to sell young people: "museums," "pop-ups," "installations" — essentially ways to mechanically place us in the moment (often in a way that makes it difficult to escape).
At these places, we enter different rooms that have been overhauled by not a small amount of sugar, glitter, and polymer, ready to "experience," interact, be moved, be acted upon, at $38 a pop, one supposedly fun thing we'll never do again after another. These places have a way of disappointing us, though. "One of the features of the Rosé Mansion is a fake gold throne," wrote New York Times critic-at-large Amanda Hess in deadpan of the many Instagrammable rooms you venture through, sampling rosé and sniffing walls, adding that it was "akin to hanging out in the lobby of the New Jersey Medieval Times." The pictures are tempting, but somehow when you get there, it always feels a bit like a papier-mâchéd airplane hanger, an idea papered over an empty space.
In contrast, no one dares bill motherhood as a transformative experience you should ride before you die. Almost everyone I spoke to was careful to couch their enthusiasm and perspective with the asterisk that you certainly needn't become a parent to self-actualize, or get your life in order. We buy smash cakes and 'gram the good moments, but we're careful not to foist our philosophy on anyone who chooses not to have children, or can't have children. We post baby photos, but conscientiously acknowledge the scars, the upchuck, the price we paid to indulge this solipsistic life choice.
"I didn't predict how much other people would judge me for being a parent, for simply choosing to have kids," wrote Jeff, a father of two who lives on the West Coast, in a Google Form I posted. "I never realized how many people in my community were so curmudgeonly and just patently anti-kid."
Click on the comments section for any op-ed arguing in favor of paid parenting leave and you will find people whining about the idea that they should have to pay to support "other people's life choices." This mindset, in which parenting is an individual endeavor rather than an economic or biological imperative, creates an environment in which parents have an outsized burden, and, thanks to that burden, they have less time and mental energy to tout the hard work and immeasurable payoffs involved in parenting than, say, the HSBC exec who completes an Ironman in branded lycra.
"It's hard to be celebratory in those two-to-five years after having a baby, because the need is so high," says Erica Chidi Cohen, the author of Nurture: A Modern Guide to Pregnancy, Birth, Early Motherhood—and Trusting Yourself and Your Body, and founder of LOOM, a health educator that helps parents from pregnancy through postpartum in Los Angeles.
"I don't think that our modern society makes space for that. I think there's too much preoccupation with going back to work, and finding child care."
And when mothers in particular are overly positive about their experiences, they risk being branded as "smug," one mom told me, so they balance out every positive with an acknowledgement of the slog. There is an abundance of thrills in parenthood: the experience of sitting on the floor as a small child listens to your kneecaps with a stethoscope; the ratio of head to body on the pint-size helmeted child riding a scooter, the snuggly sight of a perfectly swaddled infant looking like a little bat in their bassinet. But it's actually quite rare to see a mom going on about how amazing her life is (even in #sponcon, the trend is now toward "realness").
Those without kids feel unburdened by fears of jinxing things or sounding hyperbolic when discussing their own moments of ecstasy: "Realizing that time is only an illusion is regarded as a very advanced state of mind in many religions," wrote wanderlust seeker Tim Boffe of his epiphany tripping on locally sourced peyote for Let's Be Nomads. "Everything I touched felt so real; every tree around me, the ground I walked on and the grass I laid on."
The range of services designed to help us peak continue to grow. Burning Man, yoga festivals, shiajit smoothies. We are fighting inflammation, hiring life coaches, and self-actualizing like never before. Millennials are in search of the profound. So why isn't parenthood ever considered a valid path to finding it?
Everything certainly feels very "real" when you first hold your child. For Tabitha St. Bernard, an organizer of the Women's March in Washington, D.C., and mother of a 4-year-old son, motherhood is a source of optimism about the world, and was the beginning of her activism. "When he was born, I very quickly realized that I could sit on the sidelines and complain about the world that my child inherited, or I could actually play an active part in making it a world [where] his half-black, half-white, white-passing Jewish identity could feel safe."
Pregnancy and postpartum comprised an intense emotional and spiritual experience she feels is totally unrecognized by society. "I think that people see [pregnancy] more as a physical development in your life [when] that is just such a small part of what you're going through," she tells me over the phone from Brooklyn. "Everything changed for me when I became a mom; my priorities, how I viewed the world, how I viewed myself, how I viewed my husband."
The medical establishment has only recently begun to acknowledge the profound effect motherhood has on a person's emotional experience. Dr. Alexandra Sacks, a reproductive psychiatrist and author of the forthcoming What No One Tells You: A Guide to Your Emotions from Pregnancy to Motherhood, recently gave a TED talk on matrescence, the anthropological concept of a profound psychological and emotional transition, not unlike adolescence, occuring in the postpartum phase. "Since this has been such a tentatively discussed topic, I can't help but think that part of how and why we are all now so interested in postpartum depression (PPD) is, first of all, it's the only language that we have to discuss this stuff," Dr. Sacks tells Romper by phone.
In her clinical practice, she often sees new mothers who feel as though their experience of motherhood is wrong and have spiraled from keeping that concern to themselves, to social isolation, to resulting depression or anxiety. "People panic sometimes when they are experiencing discomfort," she says. But the growing awareness of postpartum depression — one in nine women is estimated to experience PPD according to the National Institute of Mental Health — isn't necessarily helpful for everyone. By way of example, Dr. Sacks mentions the many celebrities who have spoken out about their postpartum depression. "Maybe some of them will in the future come out and say, 'I really had a very rich and complex matrescence.' Maybe they didn't have an actual medical episode of depression. I think a lot of what people mean is it wasn't so easy."
Her work complicates the idea that life experiences are black and white; either #bliss or something to regret. Part of therapy is helping patients to "relax into the discomfort," as she puts it.
"Do we think that things that are hard in life should be avoided? No. We should not be afraid of the feelings that come with things that are rarely easily acquired." Dr. Sacks explains that the growing pains experienced by new parents (recent studies have revealed extensive neuroplasticity in fathers also) are part of what in therapy she calls a "deepening of the connection" to their child.
This sentiment is echoed by Zlata, a mom of one in the northeast, who says, "I knew it would be hard, but there's no real definition for the type of hard it really is." At the same time, she did not anticipate "how incredibly in love I would be with my child."
In other words, sometimes what is needed is not a label, but space to experience — the impetus behind Dr. Sacks' call for women to share all aspects of the postpartum experience on social media using the #motherhoodunfiltered hashtag.
The change during and after birth is physical, psychological, and emotional. "I'm more in love with my kid every day," says Romper's advice guru Jenny True,* who has a 15-month-old, "but I did not anticipate — or understand? — the completeness of the No-Going-Back factor." "My vagina split," Keira Knightley memorably observed in an essay. You can't go back to before kids, yes, but then you can never go back in life. Birth is shattering, but it is also transcendent.
"I gave birth to my son while standing," recalls writer Katie Alicea, who has a 5-year-old and 3-year-old and lives in the South. "The midwife literally ran in to catch him like she was sliding into home base. It was dramatic and amazing. After all that, I was on an endorphin high like a mo-fo and was high-fiving all the nurses." Motherhood is "my life's work," says Meg St-Esprit of Pennsylvania, who recently adopted her fourth child.
Part of the transcendence is, of course, the awesome duty of it — you're a steward not only of someone else's current physical wellbeing but also their future, which includes their happiness, or lack thereof. "It's hard to remember what it was like to not have her in my life," says cartoonist Emily Flake, author of Mama Tried: Dispatches From The Seamy Underbelly Of Modern Parenting, of her 6-year-old daughter. "Now if I ruin my life, I ruin hers, too, so that sense of responsibility is important and does force a certain amount of growth." Flake's daughter draws the guest portraits for Shitshow, the live parenting variety show she co-produces in Brooklyn. "Honestly, I think she's going to be 10 times the artist I am," Flake says over the phone.
The decision to have children is, praise be, more widely a choice these days for women. Adrienne Rich warned in Of Woman Born, "We do not think of the power stolen from us and the power withheld from us, in the name of the institution of motherhood," and many women are heeding her words — the U.S. birth rate is at a 30-year low. But knowledge of the ways motherhood has been used to perpetuate a patriarchal structure has also complicated celebrations of the experience. Saying you were "born for this" feels retro, a refutation of feminism's hard-fought wins, a reason not to push for parental leave or better postnatal care. And for a sarcastic Gen Xer, painting parenthood as cloud nine feels a bit like selling out. There's no edge to the pat happiness of wheeling your child around in that pink push-buggy with the eyelashes (you know which one).
Motherhood had long seemed like something Christiann Macauley would rather skip. Macauley, a UX designer who also creates comics for Cosmopolitan and has a 2-year-old daughter, is excavating her thought process on the phone with me. "It's hard to say what changed," she says after several minutes of happy banter around her pre-child, party-hard life, and then her voice tightens and breaks. She explains that a younger friend passed away from breast cancer, and she realized "at some point you start losing people, if you don't make new people to love."
Macauley never imagined she could be a mother until, at 31, she held her baby nephew — the first baby she remembered ever holding — and felt an epiphany of sorts. At 35, she became a mother, and recalls "a lot of people" were surprised. Parenthood has been overwhelmingly positive for her, the beginning of a life-long relationship.
After all, parenthood is ~deep~. Rozier expected it to be "a door to a new life experience that was previously unopened, but I didn't know how it would make me feel. Especially as guys, no one ever asks these questions, or talks about [fatherhood]."
"The fear [of eternity] went away because I realized I could now do eternity and be okay," Rob Delaney wrote in an essay on Medium published after the loss of his 2-year-old son, Henry. "I could just call to mind the image of one of my sons, or the smell of their heads, or the feel of one of their little feet in my hand and I'd be happy. Give me a Polaroid of one of them to hold onto and I could do two eternities."
Writer and SCN8A Epilepsy awareness advocate Hillary Savoie could not have anticipated the greatest challenges that parenthood would bring: "Having a child who is medically fragile — a child who needs a lot of care to stay alive and who I may outlive." The experience of parents of children with special needs is not easy, nor does it encourage the kind of black-and-white thinking Dr. Sacks is trying to break down. In a forthcoming feature on the way raising children with long-term medical complexities can scar parents, Savoie, mother to a 7-year-old daughter in upstate New York, writes, "Our children are both the greatest sources of our trauma, and our greatest reason to keep moving forward."
As a 20-year-old ski bum dropping cliffs, I had no great sense of my mortality. But the second my daughter came along and my dad scooped up her little bundle (counterweighted with a beer in the other hand), I saw how quickly the baton passes from one generation to the next, how near the deaths of my parents and of me really were, how little time I have with any of them.
"We could sit here and get super high and talk about the illusory nature of reality, drawing back the veil, and so on, but what I'm learning is this: that loving anything this much requires you to hold conflicting thoughts in your head and heart," Flake wrote in "The Part Without Any Jokes" in Mama Tried. "I want to look at her dear little face forever; nothing lasts forever."
One of the most frequent charges in empirical studies of parenthood is that "happiness" suffers; and if you were to have surveyed me as I reverse-baggied my child's poop nugget off the lawn last summer, you may have recorded some negativity — that is, of course, the problem with measures of happiness. Even the grandfather of positive psychology, Dr. Martin Seligman, has walked back some of the drive of his work. "When you ask people about their life satisfaction, 70 percent of their answer is what mood they are in," he wrote in a book subsequent to Authentic Happiness. Wall-to-wall happiness is not the goal. Bliss, and worry, are transient.
Jennifer Senior explored the inverse correlation between the presence of a child and happiness in her parenting bestseller All Joy And No Fun, which pre-empted the discussion of "real" motherhood — a concept we now assume to entail hardship, resentment, endless tradeoffs, and a brand of cynicism encapsulated by, among other things, the banished comedy of Louis C.K. The book unpacked the misery many parents experience, but was overall much more optimistic than much of the media that followed. In fact, the "joy" portion of her thesis explored topics like flow — an intensely positive state of mind that can arise during child care but is difficult to measure in the moment.
These kinds of experiences are rewarding in themselves. Candi, mom of of a 13-month-old in the northeast, finds joy in the many little moments that make up the day. She expected parenthood to be "oppressive," and never anticipated "how fun I would find the things I get to do with my son, like taking him to the library."
"To have a piece of your heart walking around right in front of you, within reach — it's always sounded beautiful to me," writes Marie Southard Ospina, 27, a mother of two under 2 who lives in the U.K.
In the foundational events and in the everyday, there are moments startling in their newness, as Edan Lepucki, co-host of the MOMRAGE podcast, puts it. "I couldn't believe that I put on clothes and went outside after becoming this animal [during labor]," Lepucki, who has a 3-year-old and 7-year-old and lives in California, recalls over the phone. "I think you get that in a less intense way in the day-to-day as a parent."
Lepucki is also creator of the @mothersbefore project on Instagram, in which daughters send photos of their mothers before they had kids with a short narrative (the project will be published as a book in 2020). What MOMRAGE and MothersBefore have in common, she says, is "they both really ask that we restore humanity to mothers." In their own ways, they give space to the many identities a parent has.
"We've so often decided that when someone becomes a parent, you're not seen any more by the culture, you're not sexual," but, says Lepucki, "I think actually the opposite happens." Your experience opens up.
"Nothing lives up to expectations, especially in 2018, where even if you travel somewhere, you already saw it on Instagram," Rozier says. "[Parenthood] is one of the last things that's as amazing as everyone says it is."
It challenges you to find meaning, and joy, in the fleeting.
When we have arguments about whether parenting is all joy or all drudgery, I think back to my seventh grade English teacher, who described our emotional experience as a set of mountains and valleys and told us the story of a man who lost his wife and children in an accident. To survive that magnitude of loss, the man cut the tops off his mountains and filled in his valleys, never allowing himself to get too happy so he would never have to experience that depth of grief again. Pretty intense for 13-year-olds, but it's a useful metaphor for the amplified experience of someone who has gone through the gate to parenthood: greater highs, greater lows. And more so for the choice and deliberation involved: in 2018, it is anything but taken for granted.
It is not trendy to paint parenthood, so often reduced to diaper pails and temper tantrums in the aisles of Target, as sublime. But it is.
I was standing on an elevated platform on a recent Saturday after a jog without my kids, nothing to give me away as a mom. The train came and we all crowded on. I stood against the far door watching as a dad wearing a "from the sewers to the streets" Teenage Mutant Ninja Turtles backpack helped his two little kids on. One of his sons knelt down to tie the shoelaces of the smaller one, who clung onto the subway pole, and as I looked from the dad to the children, there, in that grimey, squealing, rattling shuttle, I saw something ecstatic.
"It's not a party every day," Macauley says, "it's falling in love with a new person."
Hair/Makeup: Karla Hirkaler using Amika and Anastasia Beverly Hills makeup
Set/Prop Stylist: Summer Moore
Art Director: Becky Brown
Associate Art Director: Diana Weisman
Bookings Manager: Guillermo Perez
Photo Editor: Clare Thigpen
Senior Editor, Features: Janet Manley