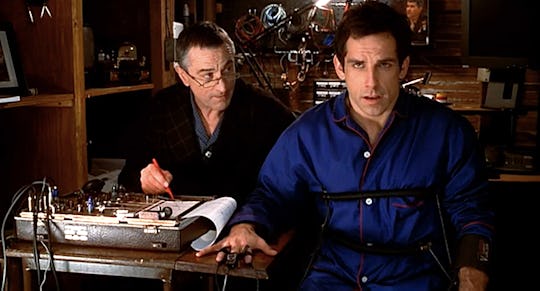 Universal Pictures
A 'Meet The Parents' Reunion Happened On 'SNL' & It Was Epic — VIDEO
The cold open on Saturday Night Live on this week was political-themed, as per usual, but what came with it was actually a special treat for Meet the Parents fans everywhere. In fact, when Ben Stiller and Robert De Niro reunited on SNL, it was a Meet the Parents reunion you didn't even know you needed. But it was kind of everything.
In the skit, Stiller played President Donald Trump's lawyer Michael Cohen, while De Niro took on the role of Robert Mueller. While giving Stiller's Cohen a lie detector test about Trump as Trump's attorney, De Niro seemed to channel his character from the much-loved comedy Meet the Parents. If it wasn't enough that the two were asked to come on the show to share a scene together, as soon as the polygraph test made an appearance, it was clear that there was going to be a clear callback to the movie the two actors starred in together 18 years ago.
For those who don't know, the movie is about a man meeting his girlfriend's family for the first time, which includes a super intimidating and increasingly suspicious father. Basically, it's moment after moment of uncomfortable scenes and yes, the lie detector test is part of it. In the same way the SNL sketch with De Niro and Stiller played out, complete with Stiller recreating his line about milking "anything with nipples," De Niro also managed to fit in a way to call him "Focker."
In the movie Meet the Parents, De Niro's character constantly calls Stiller's character by his last name, Focker, because if there's a way to demean your daughter's boyfriend who you can't stand, why not? In the SNL sketch, though, De Niro tells Stiller, who was Trump's lawyer, "Listen to me, you little weasel... you broke the law and now we're gonna catch all you little Fockers."
One of the first questions that De Niro's character asks Stiller's in the movie is about watching pornographic movies and in the SNL sketch, he asked, "How'd you like that pee-pee tape?" which pretty much set the tone for the sketch. Of course, on SNL it was in reference to unconfirmed allegations involving Trump, but it was just another way the Meet the Parents reunion totally worked.
Jay Roach, the director of Meet the Parents, spoke to Variety in 2012 about how he brought both of the actors together to make the first movie that would later spawn two sequels, Little Fockers and Meet the Fockers. "I met Bob [De Niro] the second time and Ben [Stiller] the first time in New York and it was a very defining moment for what became the film," he said at the time. "Ben is a very confident person, but around De Niro he was so eager to please. He was uneasy and I thought, How can I prolong this? That's the movie!"
Since there are three movies in the Meet the Parents franchise, I'm pretty sure that's the closest we're ever going to get to an on-screen reunion, but seeing De Niro and Stiller together again on SNL Saturday night made sense for the sketch they were going for. Having all of those little Meet the Parents inside jokes thrown in there was just icing on the cake, really.
Having big names in the SNL cold opens isn't anything new, as other big stars like Bill Murray also showed up earlier this year. Still, Meet the Parents fans everywhere (a.k.a. almost everyone who was watching SNL) likely appreciated the reunion and another chance to see Stiller and De Niro in similar positions so many years later.
Check out Romper's new video series, Romper's Doula Diaries:
Watch full episodes of Romper's Doula Diaries on Facebook Watch.