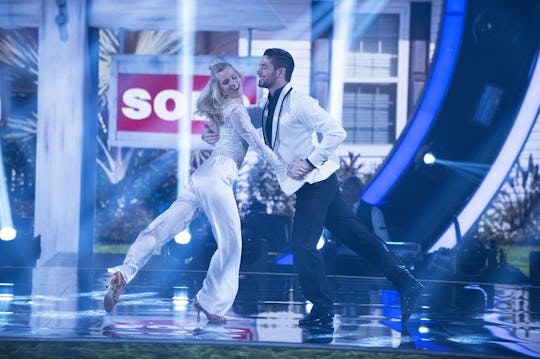 Eric McCandless/ABC
These Heather Morris Dance Videos Showcase Her Talent
In case you didn't already know, Season 24 of Dancing With the Stars got an experienced dancer when they asked Glee's Heather Morris to join the ranks. And even though she's shined so far this season, it becomes clear from these videos of Heather Morris dancing that her talent has existed for much longer than her stint on DWTS. It's a talent that goes back years, to the very beginning of her career in show business, so to say she's an experienced dancer would be an understatement.
Still, competing on DWTS is something that's new to everyone who goes on the show, in that it's not about showing off your best choreographed dance to a Top 40 hit, but instead your ability to waltz and cha cha with a partner, live on TV, in front of four judges and millions of viewers.
Thanks to Glee, Morris is known for her amazing singing voice, but even before she hit it big with that breakout role, she was dancing and practicing her performance skills that way. Naturally, there are tons of dancing videos of Morris that show how she got to the level of skill she has today, even if DWTS is still teaching the actress a thing or two about various ballroom steps.
Although she began taking dance lessons as a kid, Morris' biggest breakout into the world of performing came in 2006 in the form of her audition for Season 2 of So You Think You Can Dance. Although 19-year-old Morris failed to make it to the round of the final 20, it was already pretty clear that she had real talent.
Even though she didn't make it all the way on So You Think You Can Dance, Morris landed a spot as one of Beyoncé's backup dancers the following year on the Beyoncé Experience world tour. The singer apparently loved Morris' talent enough to keep her around for several performances of "Single Ladies" that followed the tour, including one live at Rockefeller Plaza in New York.
Obviously most fans love Morris for her role as Brittany S. Pierce on Glee and her ability to channel the Britney Spears at will. She even gave a callback to that when she performed "Toxic" on Dancing With the Stars this season. But there's little that compares to all of the times Morris showed on her dancing skills on the FOX hit show.
There were plenty of amazing performers born from their time on Glee, but as the series went on, it was clear that Morris could really do no wrong no matter what song she took on. And that goes for more than just vocal talents.
For Week 4 of DWTS this season, Morris scored a 35 out of 40, making it her highest score yet for Season 24 and proving that she's obviously a quick study. If anything, as a dancer already, DWTS has afforded Morris the ability to learn more of the skill to take with her when the season is over. But can we take another minute to just admire her sheer energy that seems to come out of nowhere?
Morris has performed with Beyoncé multiple times over the years, but at the 2008 Grammys, she was on-stage to dance backup for not only Beyoncé herself, but Tina Turner as well. Like, how do you even move up from that?
I don't know if it's because Morris has spent the majority of her life practicing or the fact that she's been able to take on roles that also include dancing, but the DWTS contestant has the ability to give everyone dance goals. As in, even if you didn't care about learning to dance before, she makes it look so good that you kind of want to learn when she does it.
Since Morris is also an actress, she's probably going to be plenty busy once her time on DWTS is over, but part of me feels like she could legit come back as a pro and totally fit in.