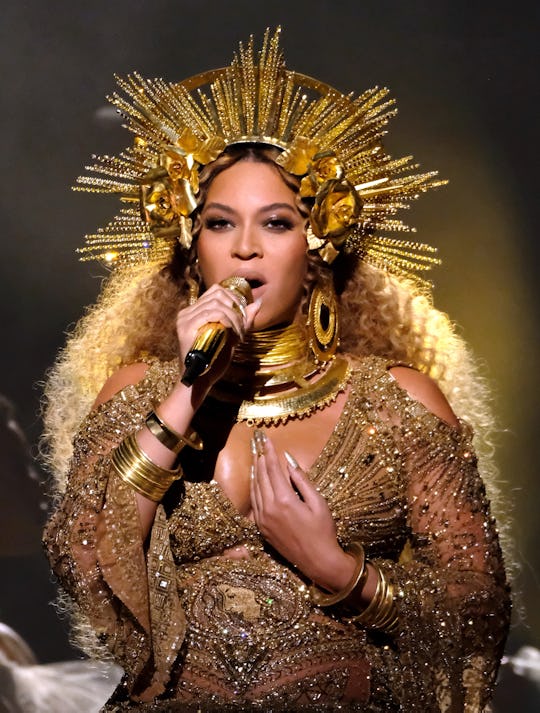 Larry Busacca/Getty Images Entertainment/Getty Images
Beyonce Changed Her Hair Color, & Of Course Fans Are Loving It
It is the one true thing in this world; Beyoncé can do no wrong. Queen Bey rules over her Beyhive benevolently, and they reward her with constant, effusive praise. So to it was when Beyoncé changed her hair color just slightly. After years of loving her as a golden blonde, fans were ready to embrace her new, darker look. Because she is Bey, and she is everything.
The Grammy award-winning Lemonade singer and mother of three debuted a new look on Instagram on Friday, and everyone knows how it goes when Mrs. Carter posts anything on Instagram. The world stops. Especially when the fashion icon decided to share her L'il Kim-inspired Halloween costumes, all five of them. A full three days after Halloween, because Bey isn't confined to things like dates and recognized holidays. She'll share her costumes when she's damn good and ready, y'all. And let's get real, when one of the biggest pop stars of all time decided to do a five-outfit, perfectly on point fashion show inspired by one of the biggest hip hop stars of all time, she can pretty much get to it whenever she wants. Fans are always going to be here for it... especially when she debuts a gorgeous, richer dark hair color.
It seems that the Carters, Bey and her rapper/business mogul husband Jay-Z, were invited to a Halloween party at former Destiny's Child singer Kelly Rowland's house. And the couple decided to go as L'il Kim and the Notorious B.I.G. Jay-Z channeled Biggie Smalls with a red leather jacket, gold chains, Timberlands, and killer shades, while Bey took her inspiration from L'il Kim's "Rain" video with Missy Elliot. And she committed to her costume (although can one call such a fabulous look a costume?) with her new, dark locks.
While Jay-Z just wore the one costume, Bey wasn't about to stop there. She shared a full five outfits on her Instagram feed and on her personal website, because she's a giver, that girl. And here is how she described the Halloween photo shoot on her website:
Halloween 2017: Lil' Kim Appreciation. Hip Hop would not be the same without our original Queen B.
Fans were obviously in love with Bey's photo shoot, costume, and new look.
One particular fan, the actual L'il Kim, responded to Bey's new look as well, because how could she not be incredibly flattered, right? The hip hop star shared several Instagram posts featuring the two queens in side-by-side shots, and captioned one of the photos:
👑 Bey x 👑🐝 😻 I'm still recovering from @beyonce's slayage from Halloween and then this happens...
Editor's Note: The Instagram post has since been deleted.
L'il Kim captioned this photo:
Lawwwwddddd, my wig is all the way in China!!! SLAYED 😻 You did that B!
Editor's Note: The Instagram post has since been deleted.
No word from Bey's camp on whether or not she plans on keeping the raven locks for awhile, but fans are hoping they stick around at least for the foreseeable future.
Bey has been going darker for a few weeks now, showcasing a more auburn look than her usual blonde locks at Tidal X Brooklyn in October. Bey's longtime colorist, Rita Hazan, explained to Refinery 29 that the singer has been known to get spontaneous with her hair:
Everything is last minute. We change it up frequently. She'll be lighter before I see her and then the next three weeks we'll change it again. It depends on what she's doing and what she's wearing. Whatever look she's going for, she goes to execute it fully — casual or formal.
In other words, those raven locks might have simply been a case of perfectly executing her L'il Kim look for Halloween. But maybe she'll take a little advice from the Beyhive and keep the look a little longer.
Stay tuned.
Check out Romper's new video series, Romper's Doula Diaries:
Check out the entire Romper's Doula Diaries series and other videos on Facebook and the Bustle app across Apple TV, Roku, and Amazon Fire TV.