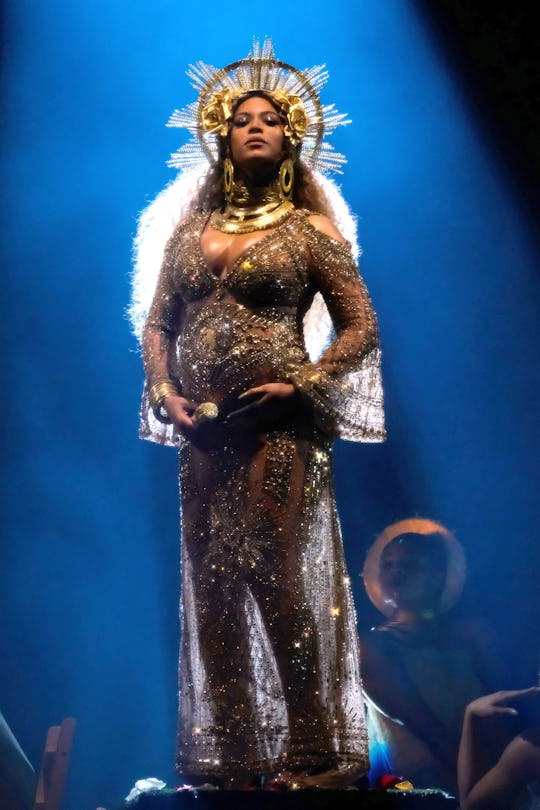 Larry Busacca/Getty Images Entertainment/Getty Images
Beyoncé Weighs In On Transgender Protections
Our beloved Queen Bey has been mostly silent following her stunning twins pregnancy announcement on Instagram, her transcendent Grammys performance spectacle, and Adele's powerful Grammy win tribute to her at the music event of the year. This week, however, she finally spoke out — and for a very important reason. Beyoncé responded to Trump's transgender bathroom reversal in a Facebook post on Thursday, breaking a weeks-long social media silence from the 35-year-old singer.
Her post was short and to the point, with an important call to action for all of her fans. "#LGBTQ students need to know we support them," Beyoncé's Facebook post read. "Share your support to #protecttransyouth at glsen.org/100days & put #KindnessInAction GLSEN​." Protect Trans Youth has become the rallying cry for LGBTQ activists, advocates, and allies in the wake of the Trump administration's reversal of transgender student protections.
The group that Beyoncé mentioned in her Facebook post — GLSEN — is a national education organization that works to ensure schools of all kinds are both safe and affirming for LGBTQ students across the country. GLSEN's 100 Days of Kindness campaign aims to utilize social media to support LGBTQ youth during Trump's first 100 days in office — and if Wednesday's transgender bathroom policy reversal is any indication, they certainly are going to need it: We're only one month into the first 100 days of Trump's presidency.
In a statement to The Huffington Post, GLSEN's executive director Dr. Eliza Byard said, "We are so thrilled that Beyoncé is standing up for transgender youth by joining GLSEN's 100 Days of Kindness Campaign at this very difficult time." Byard continued:
There is a great deal of confusion and fear out there right now, and Beyoncé has the unique power to cut through the noise to deliver a crucial message of love and support to all transgender youth. Thank you, Beyoncé. (And I cannot wait to tell my daughters about your support.)
GLSEN also shared its gratitude for Beyoncé using her massive social media following as a platform for promoting trans rights.
Last May, Beyoncé also showed support of transgender rights on her website during her Formation World Tour. After North Carolina passed the controversial HB2 transgender "bathroom bill," Beyoncé did not cancel her Raleigh tour stop, even as many other musicians cancelled their North Carolina performances out of protest. Instead, Beyoncé posted a lengthy message to fans about Equality NC and their important work on behalf of the North Carolina LGBTQ community. "We think it is important for us to bring attention to those who are committed to being good and carrying on the message of equality in this core of controversy," Beyoncé's statement read, in part, on her website.
Beyoncé is just one of many celebrities who have spoken out against Trump's transgender student protections roll back. Still, the sheer size of Beyoncé's social media following — her Facebook page has nearly 65 million followers alone — will massively help amplify the work of and donations to organizations like GLSEN fighting to protect trans youth.