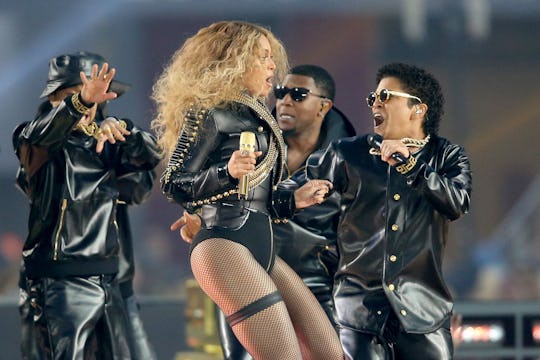 Andy Lyons/Getty
Beyoncé Stares Into Camera During Super Bowl Entrance, & It Gave The Internet Life
Let's state some facts here: Beyoncé puts on one hell of a show. Beyoncé makes people scream, cry, and feel things they've never felt before. So it's no surprise that Beyonce blew people away during her Super Bowl 50 Halftime performance with Coldplay and Bruno Mars. And she didn't even have to open her mouth to get people screaming "YASSSSS QUEEN!" All it took was Beyoncé staring into the camera to give the world life.
Although people were hoping (OK, praying) for Beyoncè to reveal a pregnancy at the Super Bowl, it's safe to say fans forgave her when she busted out a jaw-dropping performance instead. The 34-year-old singer was donning a black leotard and knee-high boots a la "Single Ladies" and a leather jacket reminiscent of Michael Jackson's 1993 Super Bowl Halftime getup. She took the field with her posse of dancers and stared down the camera before belting out her latest single, "Formation," which dropped the day before the Super Bowl.
Though she didn't cause the stadium to black out like she did in 2013, she did bring the audience to their feet and brought the Internet back to life after a somewhat boring game. Though, to be honest, most people were probably just watching to see this:
Now if you'll excuse me, I'm going to go stare into Beyoncé staring back at me, and see what kind of profound truths about myself and the universe I'm able to suddenly understand.