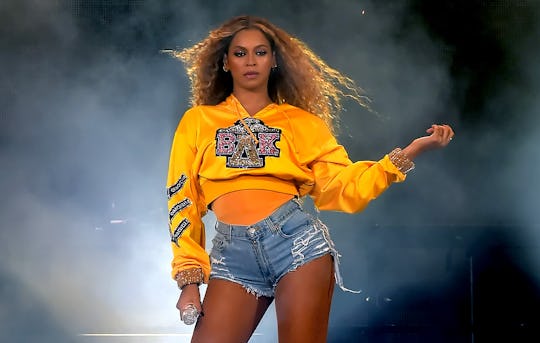 Kevin Winter/Getty Images Entertainment/Getty Images
Beyoncé Thinks It's Very Important We Teach Our Sons To Be Caring, Truthful, & Honest
As a mother of a boy, I have to contend with a lot of gender stereotypes from which I want to protect my son. I despise the "boys will be boys" philosophy, and don't believe his penchant for being rough is inherent to his sex. After all, when it comes to his father and me, I am by far the more abrasive parent. And although he is only 3 years old, I want to start dismantling archaic and patriarchal gender norms now, before it's too late. That's why I appreciate the values Beyoncé plans to instill in her children. Specifically, Beyoncé thinks it's very important we teach our sons to be caring, truthful, and hone. I, of course, couldn't agree more.
In her history-making cover story for the September issue of Vogue, Beyoncé spoke, in her own words, about deeply significant topics that have affected her life, from pregnancy and body acceptance to her ancestry and legacy. When discussing her legacy, in particular, the groundbreaking entertainer and businessperson recalled how her mother, Tina Knowles, taught her about representation and "the importance not just of being seen but of seeing myself."
And as a mother of two girls, Queen Bey went on to write in her Vogue essay, she wants to make sure "they see themselves as CEOs, as bosses, and that they know they can write the script for their own lives — that they can speak their minds and they have no ceiling."
She continued, according to Vogue:
They don't have to be a certain type or fit into a specific category. They don't have to be politically correct, as long as they're authentic, respectful, compassionate, and empathetic.
But the mom of three doesn't want to teach those values only to her daughters, 6-year-old Blue Ivy Carter and 1-year-old Rumi Carter. Beyoncé also wants the same things for Sir Carter, her son and Rumi's twin, she wrote for Vogue's September issue.
She went on to say in her first-person interview:
I want him to know that he can be strong and brave but that he can also be sensitive and kind. I want my son to have a high emotional IQ where he is free to be caring, truthful, and honest. It's everything a woman wants in a man, and yet we don't teach it to our boys.
Beyoncé's commitment to teaching her son empathy and integrity is not only admirable, but so, so necessary. Even from an early age, boys are taught certain values that perpetuate toxic masculinity. Among them, that men need to be "physically tough," and that it's wrong to show affection, especially towards other men.
Unfortunately, those are harmful, archaic lessons that boys will learn from the people around them and society at large. But as parents, we can minimize and mitigate the effects — nay, we have a responsibility to.
Because, as researchers behind a 2017 Journal of Adolescent Health study found, youth subjected to strict gender expectations are at an increased risk for mental and physical health problems during and after adolescence. Boys, the study found, are more likely to experience substance abuse, die by suicide, and have a shorter life span.
To that end, Queen Bey wrote in her essay for the September issue ofVogue:
I hope to teach my son not to fall victim to what the internet says he should be or how he should love. I want to create better representations for him so he is allowed to reach his full potential as a man, and to teach him that the real magic he possesses in the world is the power to affirm his own existence.
Beyoncé's Vogue essay is truly remarkable for its candor and vulnerability. And I am so inspired by her point-of-view and hopes for her children. I could only hope to raise my son with the same virtues.