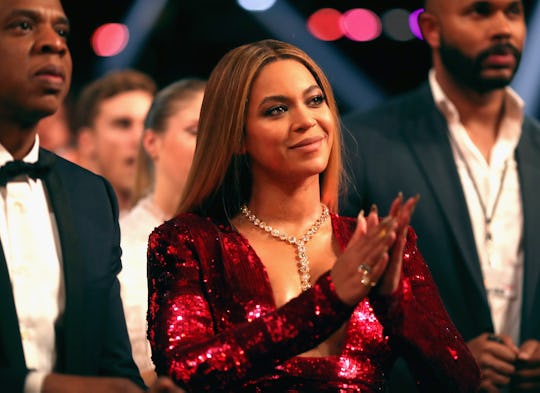 Christopher Polk/Getty Images Entertainment/Getty Images
Incredible Name Predictions For Beyoncé's Twins
Beyoncé and Jay Z should be welcoming their twins any day now — heck, her fans seem to think she's already given birth because she's been rather silent on social media for the past several days — and there are still so many unanswered questions about her bundles of joy. Since her epic pregnancy announcement, there have been some hints about the gender of her family's newest additions and the Beyhive has speculated about what the power couple will name them. But Queen Bey hasn't really given fans any hard facts to work with, so they've had come up with a few name predictions for Beyoncé's twins, and some of them are pretty incredible.
Even though she hasn't revealed the sex of her twins, fans seem to believe that there is a chance that Beyoncé is expecting a boy and a girl after she posted a series of glamorous photos that featured blue and pinks jewels a couple months ago. "I think she's having one of each," one fan wrote on the post from April. "Baby boy and girl I'm betting you," another fan concluded.
But another post from a photo shoot in March has led fans to believe that Blue Ivy might have two little brothers very soon. In it, Bey was wearing the same earrings that she did in her 2008 music video for "If I Were A Boy," leading fans to speculate that she's expecting two little boys, as People reported.
While these are all just theories, there are only three options it could be: Two boys, two girls, or one of each. Whatever the outcome turns out to be, fans are ready to throw their name predictions into the ring. Here are some of the best:
They Could Go Down The Color Route Again, But Inspired By Gemstones
If Beyoncé has actually already given birth to her twins, Emerald and Jade could be right on the money. And it would certainly fall in line with their 5-year-old daughter's color and nature-inspired name.
They Could Be Named After Their Parents' Hometowns
According to this poll, fans seem to favor the names Brooklyn and Houston — both totally unisex names. It's definitely a possibility considering that Beyoncé was born and raised in Houston, Texas, and Jay Z was born in Brooklyn, New York and has had several tracks dedicated to his hometown.
The Twins Could Be Named After The Universe
Astrophysicist Neil deGrasse Tyson had some cosmic-inspired name ideas for Beyoncé and Jay Z to consider, according to Life & Style. In addition to "Dawn" and "Dusk," he also suggested the names "Zenith" and "Nadir" — as they are "the points directly above your head and directly below your feet on the sky."
No word if the expectant parents took note, but I wouldn't be disappointed if these made the final cut.
Bey Might Pay Homage To Her Smash Hit "Lemonade"
The staff over at People suggested the name Limón as a subtle nod to her epic visual album and because "frankly, Limón just sounds fancy."
The magazine also thought Beyoncé's alter ego "Sasha" could be an option, as well as "Corey" for a boy, as it also happens to be Jay Z's middle name. All very valid possibilities.
If Bey & Jay Are Totally Stumped, They Might Use The "Bey Bey Name Generator"
Thanks to some tech-savvy fans, this name generator randomly selects an odd combination of a color and something found in nature (like Blue Ivy), such as "Chartreuse Walnut," "Beige Zinnia," or "Red Juniper."
While this site is fun to play around with, its ideas probably aren't going to be the final winners. But certainly a good — albeit out-there — source of inspiration!
We can guess and predict all we want, but we know whichever names Beyoncé and Jay Z choose for their little ones is going to shock, entertain, and totally delight us all. And can we really expect anything else?