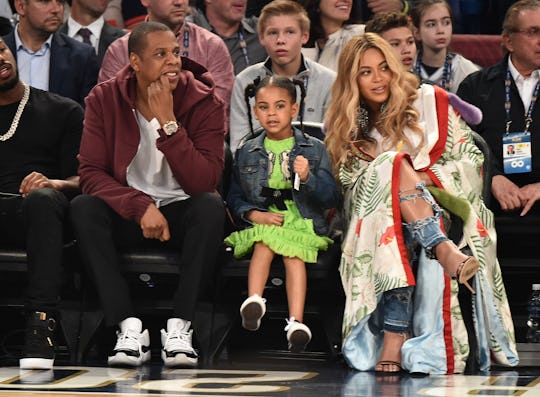 Theo Wargo/Getty Images Entertainment/Getty Images
Beyonce's Twins' Names Have Been Revealed
The world waited a long time to hear the news that Beyoncé had officially delivered her twins, but now that the twins are here, everyone is ready to hear the names. While there have been some rumors floating around, Beyonce's twins' names have been revealed. According to TMZ, the tiniest members of the Carter family are named Rumi and Sir.
I mean, JAY-Z and Beyoncé named their oldest child Blue Ivy — you expected something unique, right? Fans have been speculating since the birth of the twins was announced, and there have been plenty of rumors floating around about the potential names of the twins. According to Refinery29, up until now, many believed that the twins were named Shawn and Bea. Cute and quirky enough, right? Many didn't think the two names meshed well with Blue Ivy though, which makes the announcement that the twins are named Rumi and Sir even more unexpected. Where did these names come from? What do they mean?
Despite the reveal, nobody can officially confirm that these are the names of Beyoncé and JAY-Z's twins. TMZ reported that the Carters' company recently filed legal documents to "secure the rights to the names Rumi Carter and Sir Carter."
It seems like a done deal, but until it's officially confirmed by a member of the Knowles-Carter family, you'll have to sit tight. According to Life & Style, Blue Ivy was allegedly helping her parents name her little brother and sister, so maybe she gave the final stamp of approval, prompting Bey and JAY to head to the lawyer's office for some paperwork.
Or maybe they've had those baby names written down since day one.
Either way, Rumi and Sir are unexpected, but not because they're creative. It just seems that nobody's entirely sure what the names mean or where they came from. While many assume that Sir is the name of Beyoncé's little boy, the sexes haven't officially been confirmed by the Carter family and it's only been reported that Beyoncé gave birth to a boy and a girl. But when it comes to Rumi, Baby Center noted that it's a popular boy's name and was number 2,712 on the most popular names list in 2017.
But, gender stereotypes aside, both Rumi and Sir could potentially be girls' names. I mean, Blue Ivy isn't exactly a traditional name. Nobody expected the Carters to come up with something as traditional as Mary and Joseph, but Rumi and Sir seem to be more unique than everyone thought. Regardless, until the world hears official confirmation on the twins' names, you'll just have to keep waiting. The Destiny's Child hit "Say My Name" has more irony than ever before right now.