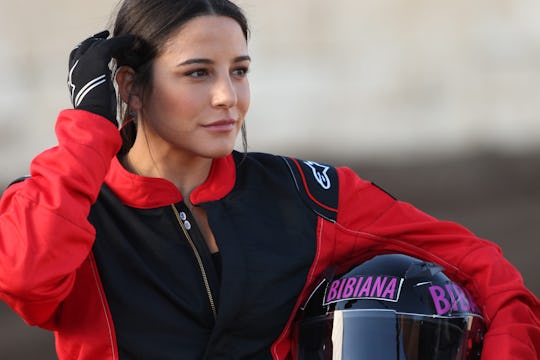 ABC
Bibiana's Instagram Shows A Different Side To 'The Bachelor' Contestant
Bibiana Julian might go down as one of the most fearless and outspoken women of The Bachelor Season 22. Honestly, I don't know a fan who isn't totally into watching her be real with the other contestants while looking out for herself, because when there are lines set up to talk to the same guy for a minute of his time, you have to be unafraid to stand up for yourself. But Bibiana's Instagram before The Bachelor shows another, more adventurous, side to the contestant who went off on Krystal after she interrupted her time with Arie during the second cocktail party of the season.
Before you worry that Bibiana is actually the opposite of the person you see on The Bachelor, it definitely doesn't seem that way. But her Instagram shows a lighter side to her personality when she's not having to deal with any mansion drama. Right away it's obvious she has a very adventurous side based on the dozens of travel photos she's posted, and it seems like she's most in her element when she's visiting far off destinations around the world. Maybe that means she'll truly shine once Arie takes the women out of the Bachelor Mansion and overseas, since that's usually how these seasons go. That is, if she's able to make it as far as that point, which I really hope is the case.
It should really come as no surprise, though, that Bibiana is probably most comfortable when she's in or around a gorgeous body of water. After all, she said in her Bachelor bio that if she could be any animal, she'd choose "a free orca" and that she'd "love to live in the ocean and they move around, plus they keep their fam tight."
From her Instagram alone, you can see that Bibiana has been to the Turks and Caicos Islands, Colombia, Mexico, Greece, and somewhere that has lot of beautiful, snowy mountains. If the winter months didn't already make you long for the sun and beaches, then Bibiana's Instagram will definitely do it. But The Bachelor contestant knows the feeling of wanderlust all too well. Under a photo from a trip to Greece, she captioned it: "Suffering from a massive case of travel depression, how does anyone return to reality? Take me back to #milos please."
I mean, where can I sign up to be her vacation buddy?
Even though her Instagram seems to be like a digital love letter to her travels and, surprisingly, doesn't even mention her part on The Bachelor except for a rose in the bio section, she has occasionally used social media to impart her own words of wisdom, like "Stand tall, be you, be free, eat burgers and pizza and ice cream in bed." That's pretty legit.
Right now, she may be known as the contestant who got into one of the first big arguments of the season, but I totally understood where she was coming from. Bibiana was understandably frustrated and worried about her standing among the other contestants. Plus, she basically said what a lot of them had been saying all night. And in real life, she definitely seems like a lot of fun.
She currently lives in Miami, so you'd think that the beaches in her hometown would be enough to satisfy her appetite for the ocean, but as Bibiana's Instagram shows, she just has an adventurous nature, which takes her on all kinds of exotic travels. So if she doesn't leave The Bachelor with an engagement ring, then perhaps her next trip can be to Playa Escondida in Mexico for Bachelor in Paradise Season 4. A girl can dream, right?