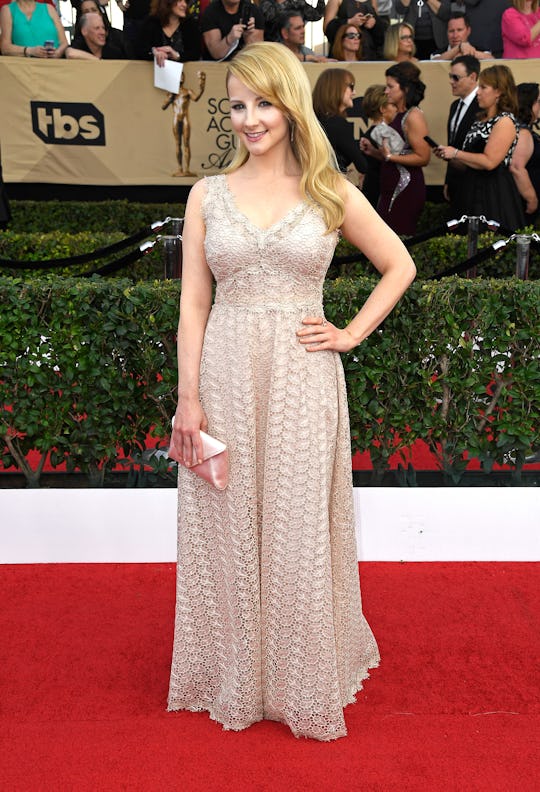 Frazer Harrison/Getty Images Entertainment/Getty Images
'Big Bang Theory's' Melissa Rauch Has A New Cookbook For Kids & It's So Cute
Introducing new foods to little kids isn't always the easiest process, to say the very, very least. If there's anything you can do as a parent to present a new food in a more palatable way, you'll likely end up trying it: Airplane-shaped spoons, happy faces made out of bite-sized veggies, bribes, begging (maybe not those last two). While some tactics work better than others, one of the most foolproof ways to sell kids on healthy foods is through a book they can't help but love... and "The Tales of Tofu" by Melissa Rauch of The Big Bang Theory fits that bill perfectly.
Chances are you already find Rauch super relatable thanks to her role as Bernadette on TBBT — not because of her quirky voice or her Ph.D. in microbiology, necessarily, but for her ability to convey the struggles of a mom (sleep deprivation, working mother guilt, etc.) with plenty of compassion and even more humor. Now Rauch is using her talent for making characters come to life with the charming "The Tales of Tofu," which combines kid-friendly, soy-based recipes with an adorable story about a shy tube of tofu who gets the lead in the school play. Perhaps unsurprisingly, Rauch has a very personal connection to the socially awkward, high-protein character.
"I was basically a very shy tube of tofu growing up," Rauch tells Romper. "Performing was how i expressed myself, so tofu and I are kindred spirits."
Rauch also happens to be a big fan of tofu as a food. That's why she says she's been thrilled to partner with House Foods for a project like this one, which has the potential to show kids how great healthy foods like tofu can be. The story is engaging, the illustrations are adorable, and the recipes aren't separate from the narrative (which Rauch points to as key in sparking an interest for kids).
"It's exciting that there are pictures to show kids of the recipes as they're going along," she says.
"I'm big on reading to my kid. Reading is such a wonderful way to ignite [kids'] imaginations or get them interested even in small things," Rauch continues. "Like when we're first learning how to brush your teeth, we'll read a book on brushing teeth. Books are a good way to introduce kids to foods as well."
The method is working for Rauch, as her daughter loves the recipes in the book (so does her husband!). A particular favorite is the Broccoli Mac & Cheese, she says; another popular choice is the smoothie. Rauch, who is clearly the most die-hard tofu fan in the house, is most happy that the product is 100 percent GMO-free.
And who knows? With The Big Bang Theory about to wrap up for good, maybe that spunky little tube of tofu will return with more healthy recipes to try. At the time of this writing, Rauch says there are just two more episodes left to film, and the looming change feels "surreal."
"I'm just savoring every moment that we have left," she says. "Like, this is the third to last time I'll be sitting in this makeup chair... they haven't written the finale yet and we don't see the scripts until the night before the table read," Rauch adds, so she truly doesn't know what to expect from the ending. She does, however, have some exciting developments on the horizon, including a movie this summer with Martin Freeman called Ode to Joy. For now, Rauch says, "it's been an amazing wonderful road, and I'm excited to see what other characters I can bring to life."
Perhaps one made out of bean curd?
"The Tales of Tofu" is available as a free eBook from House Foods; click on this link to start reading now!