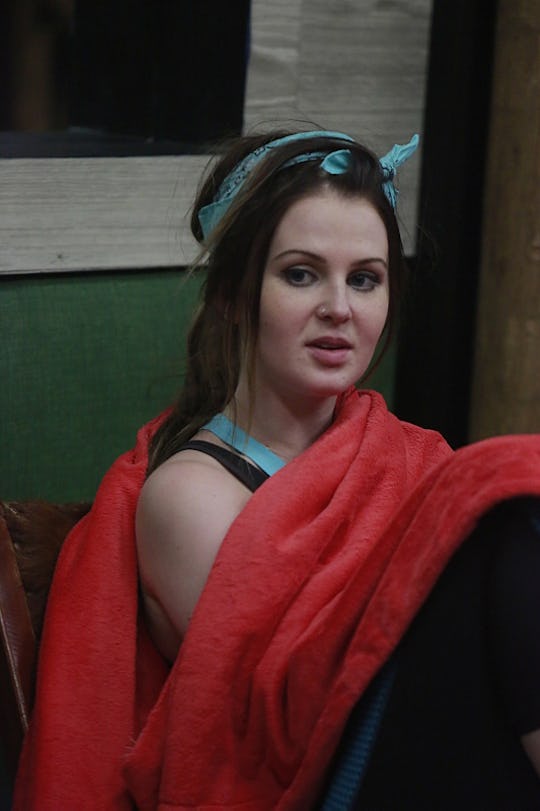 Bill Inoshita/CBS
'Big Brother 18' Michelle Meyer's Reddit Shows Just How Big Of A Fan She Is
Going into the Big Brother house this season, Michelle Meyer wasn't shy about the fact that she is a super fan of the show and has recently made that even clearer when she mourned the loss of Frank in the Big Brother house. But she's also been open about being an avid Redditor and Big Brother 18's Michelle's Reddit account shows just how much of a super fan she really is. Which is a lot, if you hadn't already figured that out. Among the random posts on various subreddits with dietary advice or funny viral photos, she has posted so much on the Big Brother subreddit that you'd think she was hired to hype up the show.
Not only has Michelle been a Big Brother fan for years, but her tastes have crossed over to the Canadian version of Big Brother, too, because what else are you supposed to do when the U.S. show is on a break? The way Michelle has posted on Reddit about Big Brother shows how much knowledge she must have had coming into the Big Brother 18 house this season, which makes sense, because you don't watch the show for literal years without learning a thing or two about how to play the game.
And honestly, it hasn't hurt her yet. As it stands, Michelle has managed to stay off the block, has never really been in danger of being put up for eviction, and is in pretty good standing with the controlling majority of the house right now.
For those of you who are still a little lost on what Reddit is exactly, it's basically a site full of different forums on pretty much every topic and TV show you can think of. It's been called the "front page of the internet", and that isn't totally insane to call it, as a lot of the videos, gifs, and photos you end up scrolling through on Facebook originated there. And the world of Big Brother on Reddit is just a whole other subculture on its own. If you're heavily entrenched in the Big Brother subreddit, then you are definitely a super fan.
A couple of months ago, presumably shortly before Michelle came into the Big Brother house, someone asked if the show was too predictable now, and she was quick to jump to its defense, in referring to Big Brother Canada, with, "From day one I never thought I would see the brothers at the end or Kelsey. So I don't agree."
She also, in true fan fashion, created a faux propaganda poster for Big Brother 16's Devin, as he ruled the house and was in power for a while. It does make you wonder what kind of art she would create in Jozea's honor/dishonor, had she been a spectator and not a participant this season.
You also aren't typically as big of a Big Brother fan as you can be if you aren't participating in almost constant talk of the live feeds, and Michelle was no stranger to both the U.S. and Canadian Big Brother live feeds out in the real world. Like when she talked about a contestant's Instagram photo in reference to something they did on the feeds. A.k.a. dug deep into her Big Brother houseguest research. Or, when Michelle was keeping track of houseguests' Diary Room spots.
And true to her status of a soon-to-be a dietitian, Michelle has given other Redditors the inside info of how nutritious the have-not slop is and how some houseguests end up losing weight from not wanting to eat it. There was also that time Michelle had a sixth sense about returning houseguests and predicted that Frank would be a returner last season on Big Brother 17. We all know it didn't happen then, but she wasn't too far off.
As annoying as some say Big Meech has come to be in the Big Brother 18 house, stalking her Reddit history makes you actually kind of like the Michelle outside of the house, when she isn't competing for $500,000 and has to be mean to other houseguests. She is the Big Brother super fan in all of us, and it only makes sense that she should go far this season. Love her or root for her demise, her place in the Big Brother house was apparently a long time coming for her and you have to be at least a little happy for the girl.