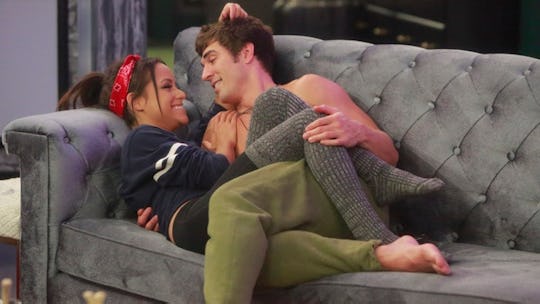 Bill Inoshita/CBS
Watch 'Big Brother' Stars Jessica Graf & Cody Nickson Get Engaged — VIDEO
Big Brother may create some enemies vying for the coveted prize money, but it can also produce some lasting relationships — or perhaps even an engagement along the way. Such is the case for Jessica Graf and Cody Nickson, who are officially preparing to tie the knot. That's right, my friends — Big Brother 19 alums Jessica and Cody are engaged and the video of the proposal will definitely make you swoon.
The big moment happened on Tuesday, Feb. 13 when the two lovebirds were hiking up to the top of a mountain (well, Jessica thought she was hiking solo — Cody ran up ahead of her to surprise her at the top). Thankfully, Cody made sure to capture the moment on camera and post the video on their YouTube channel shortly thereafter. "I'm running to get ahead of Jessica," he stated in the clip. "She's going up Runyon Canyon right now. I'm gonna meet her at the top of the hill and propose." Once they were both at the top, his friend took the camera so that he could get down on one knee.
Her reaction was priceless and the whole thing felt like something out of a rom-com movie. Even if you weren't a big fan of theirs on the show, you can't help but feel so happy them.
Cody also shared part of the video on his Instagram page and had a nice message for those who helped make the magical moment possible. "I found my true love, I got the ring, only one thing left to do," Cody wrote in the caption, adding:
Thank the Lord, thank you to everyone who prayed for us, thank you BB for casting us so we could meet, thank you Joey Hamra @hamradiamonds in NYC for helping me design the perfect ring. Thank you Lori for helping keeping it a secret since I'm with Jess every waking moment. Thank you to my sisters and mom and dad for making Jess family … we are blessed.
For her part, Jessica also made sure to share the happy moment on her own Instagram as well and it's easy to see just how thrilled she is with the whole thing. "I said yes! On Tuesday, February 13th my best friend asked me to marry him," she stated. "He's made my dreams come true every day since we met! I love you + there's no one else in the world for me. You're my person and I thank God for you coming into my life!"
This love story began when the duo first met each other in the Big Brother house in Season 19. After forming an alliance (and quickly afterward, a showmance), the pair made a lot of enemies in the other houseguests, but always made sure to stick together no matter what. It became clear in the weeks that followed that this relationship was more than just part of the show — it was something real, which is made all the more evident in light of their engagement.
They may not have won Big Brother at the end of the season, but Cody did go on to become America's Favorite Houseguest and win a $25,000 prize. (Perhaps some of that money went to getting Jessica that gorgeous ring!) And since they both proved to be such strong competitors in the various Big Brother competitions, they even took part in Season 30 of The Amazing Race.
Suffice to say, Jessica and Cody are an unstoppable force and make for a very cute couple. I wish them nothing but the best as they start this new chapter of their lives together.
Check out Romper's new video series, Romper's Doula Diaries:
Watch full episodes of Romper's Doula Diaries on Facebook Watch.