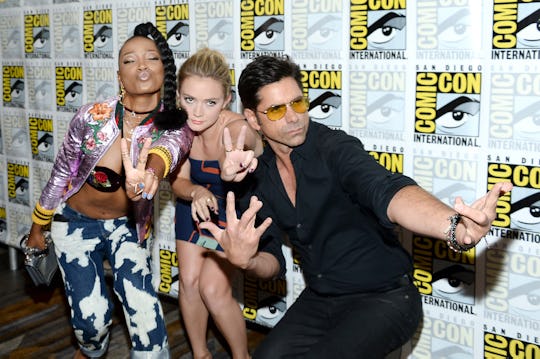 Matt Winkelmeyer/Getty Images Entertainment/Getty Images
Billie Lourd's Co-Stars Have Shown Their Support
Losing a mother is difficult. Losing a grandparent is difficult. Losing both one almost immediately after the other is almost too much to imagine. Unfortunately, that's the situation Scream Queens actress Billie Lourd is in this week, having suffered the death of her mother Carrie Fisher and the almost-immediate subsequent passing of her grandmother Debbie Reynolds. Thankfully, the Scream Queens cast has been supporting Lourd on social media, sending her their love and paying tribute to the iconic actresses.
On the series, Lourd, 24, plays Chanel #3, the ear-muffed, gloriously deadpan member of the ditzy yet fashionable crew headed by Emma Roberts' Chanel Oberlin. It's no great shock that members of the FOX comedy-horror series have been rallying around Lourd during this difficult time.
Prior to this unfortunate week, many of the actors had shared fun behind-the-scenes photos while filming Scream Queens Season 2, which just aired its final episode on December 20. It's clear that they share a close bond and enjoy spending time with one another. Lourd shared her own black-and-white photo after the finale had aired, calling the cast and crew her "Royal Tenenbaums-esque family" and noting that she'd miss them "passionately" now that they've wrapped what might have been their last season.
Jamie Lee Curtis, who has played Dean Cathy Munsch over Scream Queens' two seasons, was one of the first to take to social media in support of her younger co-star. On both Instagram and Twitter, Curtis reiterated a plea for support for Lourd and for the media to give her space to grieve.
After Fisher's death on Tuesday, Abigail Breslin (who plays Lourd's fellow Chanel, the woebegotten #5) shared a photo of Lourd she'd taken while filming, thanking the late Fisher "for making such an incredibly brave, kind and brilliant person who I'm lucky to call my best friend."
Following Reynolds' death the next day, Breslin shared a photo of herself and Lourd on set, with the simple caption "I love you, Bill" and a series of heart emojis.
On Twitter, Breslin echoed Curtis' plea for everyone to give Lourd privacy, later also tweeting about the unfairness of Reynolds passing so soon after Fisher.
Glen Powell, whose fan-favorite character Chad Radwell was killed off earlier this season, posted a touching tribute to Reynolds accompanying a photo of Lourd with her mother and grandmother. In the caption, Powell noted that he'd told his co-star that her grandmother was his "first crush."
"That light, that beautiful twinkle of the eye that assures a pure heart with a high chance of mischief that made Debbie and Carrie legends will live on through Billie Lourd," the Hidden Figures actor wrote. "This bloodline is blessed with beautiful, courageous women. My heart goes out to the Fisher and the Lourd families."
Lea Michele, who plays the murderous Hester on Scream Queens, shared a photo of Lourd and her mother. "Holding my dear friend billie, and her sweet mommy Carrie in my heart right now...," Michele wrote.
John Stamos, who joined the cast in the second season as Dr. Brock Holt, shared a photo of himself and Lourd after Fisher's passing, recalling that she'd always loved talking about her mother.
"Oh how you loved telling stories about your mom -and I loved hearing them. I loved watching your face light up," Stamos captioned the photo. "You were so proud of her and she of you. She will live through you forever and we're all lucky for that. Love you Billie."
Niecy Nash, whose popular character Denise Hemphill was sidelined for much of Season 2 before her triumphant finale return, shared two photos of the deceased actresses, then and now. "Rest In Peace. Mother & Daughter. Deaths one day apart. #debbiereynolds #carriefisher Together Again," Nash captioned the post. "My heart is heavy for my #screamqueens family @praisethelourd losing her mom & grandma at the same time. Please keep her in your prayers."
After Fisher's death, Lautner (who played Chanel #3's love interest and has been rumored to be dating Lourd off-screen as well) shared a photo of himself and his co-star, praising her strength. "This girl is one of the strongest, most fearless individuals I've ever met," the former Twilight actor said. "Absolutely beautiful inside and out. I'm lucky to know you @praisethelourd."
Even Ariana Grande, who had a minor role as the quickly-killed-off Chanel #2 on Scream Queens Season 1, paid her respects via Instagram. Grande shared a photo of herself and Lourd onset during the first season. "I love you so very much @praisethelourd," the Dangerous Woman singer captioned the photo. "My heart is with you & your family."
Following Reynolds' death the next day, Grande also tweeted her condolences and reiterated her love for her former co-star.
This is definitely a painful time for Lourd, but it's good to see that she has such a strong support system around her and so many people who love her. And, of course, she's got her mother's beloved dog Gary by her side as well.