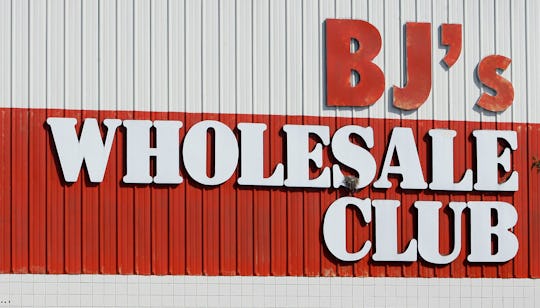 Charles Krupa/AP/Shutterstock
BJ's Free Thanksgiving Delivery Is Here To Save You From Holiday Disaster
If you've ever hosted Thanksgiving then you know the absolute dreaded chore of grocery shopping. This year, I decided to host a "friendsgiving" (what was I thinking?). So, I went online to the grocery retailer where I usually order my groceries from and sat at my computer for (literally) two hours, carefully loading my cart with all my must-haves, double checking my recipes and making sure I got all the best quality ingredients. If only BJ's free Thanksgiving delivery had been in effect! Because tragically, when I was finally ready to checkout from this other grocery retailer, all the delivery time slots were taken — that's right, they weren't delivering. So there I was, two days before Thanksgiving with an empty fridge. (This is a completely true story and let me tell you, it wasn't ideal.)
If you're in a jam like me, now through November 25 you can get all your Thanksgiving groceries without even stepping foot out your door. BJ's Wholesale Club if offering same day delivery with a $35 minimum purchase, as announced in a press release, so you can literally do all your grocery shopping and have the food in your fridge while still wearing your PJ's. Can I get an amen? (PJ's and BJ's... could there be a connection?) Use promocode BJSDIGITURK to get in on this amazing deal, because let's be real, who wants to go out and do their Thanksgiving grocery shopping right now? Not me.
BJ's is also having some other amazing deals right now, while we're on the subject. Since it's all about the turkey for the next couple of days, check out their Butterball Premium Frozen Turkeys for just 89 cents per pound. Not into the frozen kind? Try their fresh turkey for only 99 cents per pound (and yes, you can get these with same day delivery so you're not serving up some alternative tofurkey thing instead). You have to act fast, though!
Are you a pumpkin pie fan? How about this 40 oz pumpkin pie? Think that's enough pie for you? You can get this pumpkin pie for just $6, both in club and same-day delivery. You'll have enough dessert for a small army with this one, but leftover pumpkin pie is pretty great. And how could you resist that price?
If you're really in the mood for convenience and efficiency, you can even order your tree on the BJ's website — at a discount, by the way — and have that delivered too. Might as well check all the boxes while you're at it! (Just saying.) You can check out more of their Black Friday deals (including tons of kids stuff like toys and electronics) on their website, BJs.com.
Do yourself a favor this holiday and take advantage of these amazing and convenient offers. The holidays don't have to be full of stress and planning. Seriously, they don't! Take some of the load off your shoulders and let BJ's take over for you. The less you have on your plate, the more you can actually relax and connect with those who matter most, which is what the holidays are really about anyway.
Season 2 of Doula Diaries shares the stories of fearless doulas helping their clients take control of their births and make tough choices that feel right to them. Watch the first episode of the new season Monday, November 26th.