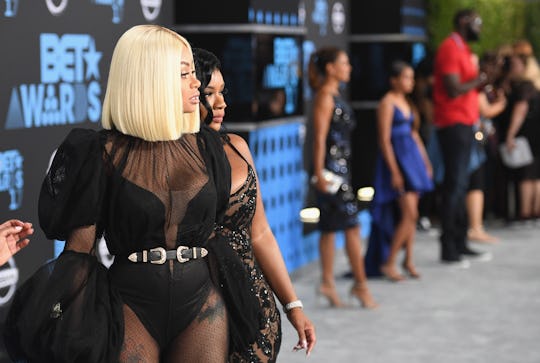 Paras Griffin/Getty Images Entertainment/Getty Images
Why Rob K & Blac Chyna Couldn't Live Together
Considering the fact that Rob Kardashian and his ex-fiancée, Blac Chyna, dominated entertainment headlines in July that screamed about the animosity between them, it's easy to forget that they were once intent on creating a happy life together. Indeed, before the alleged "revenge porn" featuring Chyna that Kardashian posted to Instagram and her subsequent restraining order against him, the former couple took a shot at living together. It didn't last long, though. And in a newly published interview with People magazine, Chyna revealed why she and Kardashian didn't live together beyond a couple of apparently rocky stints under the same roof — and her reasoning makes perfect sense.
When Chyna was pregnant with Dream, the 8-month-old daughter the two share, Kardashian moved into her Los Angeles home with her, she told the magazine. During that two-month period, though, Chyna claimed that Kardashian "stressed [her] out every day." This ostensibly led to the breakdown of the arrangement. "And I said, 'One thing you won't do is stress me out with this baby in my belly,'" the model and entrepreneur said, according to People.
Still, Chyna and Kardashian were still together by the time Dream was born in November. So Chyna decided that, because she wanted to be with Kardashian, it was time to give living together another try.
At the time, Kardashian was living with his younger half-sister, Kylie Jenner. Jenner once dated Tyga, the rapper with whom Chyna shares a 4-year-old son named King Cairo. It's safe to say that could have caused some awkwardness — but there's no saying for certain that was the reason that that roommate situation lasted for only a week. As Chyna explained to People, she ultimately decided to move out because she felt "disrespected" there:
About a month after Dream was born, I moved in with Rob at Kylie's house for about a week. I put my pride aside — and I'm very prideful. I was like, "You know what? I actually want to be with this person. So guess what, Chyna, you need to go live in this lady's house," which is his sister. "There's no bad blood or whatever, so be a family and figure it out." I moved in and one week later was like, "You know what? I don't deserve this. I'm out. I'm not going to be disrespected."
In the interview, Chyna doesn't specify exactly what Kardashian did at the time to stress her out and to disrespect her. But what happened between the two not too long after make it easy to believe that things were far from OK in the already notoriously rocky relationship. On July 5, Kardashian shared a number of nude photos of his by then ex-fiancée, and also took the opportunity to accuse her of having cheated on him, substance abuse, and using him for his fortune. Revenge porn is illegal in California, and Chyna was able to secure a temporary restraining order against Kardashian on July 10.
Getting the restraining order was an example of Chyna's defending herself and putting herself first — as she absolutely should do. Likewise, any woman who is uncomfortable enough in her living situation that leaving feels like the best option should do so, if she has the means. Kudos to Chyna for demanding respect and doing what's right for her.