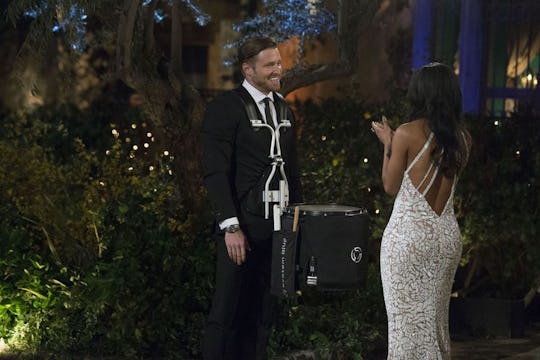 Paul Hebert/ABC
This 'Bachelorette' Contestant Is More Than An Aspiring Drummer
Blake E. entered the world of The Bachelorette with a marching band, drumming up a solo for Rachel, and his profession, listed as "aspiring drummer," was a testament to that scene. But Blake E.'s Instagram proves the Bachelorette contestant is more than any drumming aspirations. True, he takes his craft very seriously and even has an official video on YouTube, which features him showing off his drumming skills, but judging by his Instagram, there's a lot more to him than fans give him credit for.
In addition to, yes, drumming as a side endeavor, Blake E. also takes fitness and nutrition very seriously. In fact, he recently received his Bachelor of Science degree in food and nutrition from Florida State University. And there are tons of Instagram posts of the Bachelorette contestant working with his clients or showing off their progress. There's even a video of him with a client who he convinced to try the famed steep Santa Monica stairs and by the middle of the video, Blake E. is already emotional for her in a way you wouldn't expect from what we've seen so far on The Bachelorette this season.
Obviously social media doesn't necessarily tell the whole truth all of the time, but Blake E.'s Instagram shows a very different (and welcome) side of the Bachelorette suitor.
Blake E. also has an adorable pitbull named Calvin, who I have a feeling would get along pretty well with Rachel's own pup Copper. It's totally possible for these two fur families to eventually bond together, right?
While he seems to take the fitness side of his career very seriously, apparently drumming has been a part of Blake E.'s life for years. He posted a photo of his 15-year-old self from a time he apparently toured with Drum Corps International and got to play music by Dave Matthews Band, Santana, and Metallica. So maybe instead of aspiring drummer, Blake E.'s bio should say something like actual drummer who is also a certified trainer and actually seems like a genuine guy. (Too wordy?)
Of course, no one is perfect though, and Blake E.'s past before he came on The Bachelorette isn't free of drama. He was the one to oust both himself and "whaboom" guy Lucas for being on a reality show together called Ex Isle before appearing on Rachel's season, but at least he owned up to it.
Still, Blake E.'s Instagram adds so many more layers to The Bachelorette contestant that you can't really ignore. And once you get over the fact that yes, he too was on a reality show before this, he actually seems like a real contender this season.