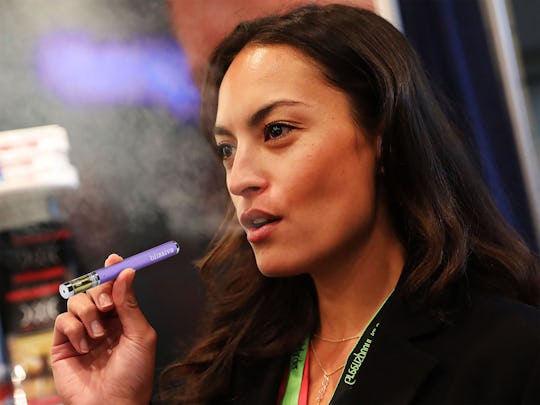 Blissiva
This Pretty Purple Cannabis Pen Is Like A Glass Of Wine With Zero Calories
As it's legalized throughout the United States, cannabis only becomes more popular, with people turning to it for everything from recreational fun to pain relief. But the market often sees men as its target demographic, leaving female cannabis users *not* high and dry. Enter the new company Blissiva, which makes cannabis products just for women.
Blissiva isn't the only cannabis company targeting women. Kiskanu specializes in beauty products; Foria makes lube and other sex-oriented goods; and House of Saka makes alcohol-free Rosé. Blissiva founders Dr. Leslie Apgar and Gina Dubbé decided to enter the market after cannabis was legalized in their home state of Maryland. "We noticed that the cannabis industry was so geared towards men," Dr. Apgar tells Romper on the phone. Her medical background oriented them towards the health benefits cannabis products could have for women in particular, specifically fulfilling women's "desire to feel better but not feel impaired," as Apgar puts it.
The Blissiva Balance Pen ($49), designed with those who suffer with anxiety and insomnia in mind, contains equal parts CBD and THC, plus a mix of terpenes (specific compounds in the Cannabis plant that determine how your brain will react to it, according to Well and Good] "that were mindfully, intelligently designed to address anxiety and sleep," Dr. Apgar says. THC is the active ingredient in marijuana that creates the "high" for users, while cannabidiol (CBD) offers anxiety and pain relief, according to Harvard Health Publishing. The 1:1 ratio of these two makes Blissiva milder than other weed products and shouldn't make users feel foggy in the way a bong or joint might.
"There's not as much psychoactive effect at all," says Dubbé. "It's more like an exhale or a glass of wine with no calories. It's just that little deep breath for the middle of the day," she explains of the product's intended effects. Of course everyone reacts differently to marijuana because it activates different parts of the brain on an individual basis, according to Medical Xpress. Apgar finds Blissiva helpful when her kids or husband are frustrating her, and Dubbé favors it as a sleep aid.
Melody Hawkins, M.D., FAAP, Certified in Sleep Medicine and Pediatric Pulmonary, doesn't think people should look to cannabis as a long-term sleep crutch, though. She explains to Romper via email, "Cannabis can help decrease sleep latency (time to fall asleep) in many people" because it relaxes you. However, "cannabis use has not been shown to directly alter the circadian rhythm in the same way that melatonin has," so melatonin might be a better fit for you if you have trouble falling asleep regularly, and to seek advice from a sleep specialist.
And if you're a parent curious about giving this product a test drive, you're not alone. But Carly Snyder, a reproductive and perinatal psychiatrist in New York, cautions against using cannabis products when you're actively parenting because any product that has CBD, THC, or alcohol, can impair you, and when you're a parent, "you have to be on your toes," she says, so make sure there is a sober, designated parent around or schedule a weekend away so you can enjoy 'grown up activities.'
The pen comes in two flavors, Vanilla Chilla and Cool As A Cucumber (in hopes to mask the traditional weed smell) and is intentionally made to look like a makeup product — a lip pencil specifically, says Apgar. Males can use the pen, but they might not get the same results as female users because, as Dr. Apgar explains, women's bodies are made to respond well to cannabis. "Our reproductive systems are densely wired with CB 1 and 2 receptors all throughout it," says Apgar. Of course, as there is limited research on cannabis and its long-term effects, the Blissiva team warns against using their product or any other cannabis products if you're trying to conceive, are pregnant, or are breastfeeding.
Indeed, the FDA has yet to approve any CBD products due to lack of research. As a result, there's a knowledge gap when it comes to what's in most cannabis products because no one is holding companies accountable. Plus growers can chemically "falsify what's in their products," even natural products like cannabis, according to Kerin Law, Ph.D., one of the cofounders of LeafWorks, a female-founded plant genetics company that established a Supply Chain Certification process that uses DNA testing to verify what exactly is in cannabidiol products.
It's a long while before the cannabis industry is regulated, but there is something special about knowing that there are women out there creating products and working to establish safety measures within the industry with women in mind. As Apgar says, "We had to develop Blissiva so we could find something that we liked."
Edit note: An earlier version of this post did not meet our editorial standards and has been updated.