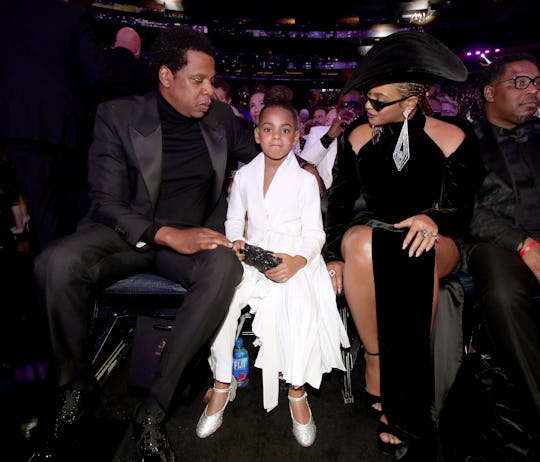 Christopher Polk/Getty Images Entertainment/Getty Images
Blue Ivy Has Been "Performing Since Birth," According to Grandmother, Tina Lawson
Beyoncé is "Queen Bey" for a reason — she's a super hardworking mom of three, who just so happens to be one of the biggest musicians in the world. So, it shouldn't come as a surprise that her oldest daughter — Blue Ivy, who she shares with husband, JAY-Z — is following in her footsteps. Beyoncé should look out, because Blue Ivy has been "performing since birth," according to her grandmother (and Beyoncé's mom), Tina Lawson. But with parents as fabulous as Blue Ivy's, it should be expected for her to follow in their footsteps.
In the newest issue of Us Weekly, Lawson opened up to the magazine about her oldest granddaughter. Lawson told the magazine what everyone already knew — that Blue Ivy has "been performing since birth."
But Lawson wasn't exactly clear where she has been performing — or if her parents have been capturing this all on tape so they can air the footage during her future concert tour in 15 year. I mean, it makes sense that Blue Ivy would be a natural performer — especially with her mom singing her some beautiful nursery rhymes and her dad there to do his thing from the day she was born.
Even Lawson thinks this, telling Us Weekly, "How could she be in this family and not sing?"
She definitely has a point there.
Beyoncé and JAY-Z fans have gotten a small glimpse of what kind of performer that Blue Ivy is. Blue Ivy became one of the youngest recording artists ever to debut on the Billboard charts (just weeks after her birth) in January 2012 after JAY-Z released a song titled "Glory" that had Blue Ivy crying in the background on it, according to Billboard. A few years later, Blue Ivy made her music video debut in Beyoncé's stunning visual album, Lemonade.
But the past two years been a very exciting one for Blue Ivy as a performer. Last year, she was given her own song titled "Blue's Freestyle" on her dad's newest album, 4:44, where she spit some serious bars. "Never seen a ceiling in my whole life," Blue Ivy rapped. In addition, she starred in the music video for her dad's song, "Family Feud" with her mom and dad.
But this year, she also got to accompany her parents to the Grammys, and traveled with them on their world tour to London, England, according to Elle. Because she keeps on getting a taste at stardom, people shouldn't be surprised if they see more from (or hear more from) Blue Ivy in the future.
It makes sense for Blue Ivy to be so into performing at such a young age — because her mom was the exact same way. Beyoncé started entering and winning talent contests when she was seven years old (just one year older than Blue Ivy is now), according to Vanity Fair. And by the time she turned nine, Beyoncé was already performing in a girl group that would form the basis of Destiny's Child — the group that made her a star. Because of this, it's not out of the question for Blue Ivy to be making her way into the music industry like, right now.
But, Lawson told Us Weekly that she isn't too confident that Blue Ivy will follow in the footsteps of her parents. Lawson said that Blue Ivy "hasn't decided yet" if she is going into show business (she is only six after all). But rest assured that when she does pick a future career, she is going to be the best in her field.
"Whatever she wants to do, she will definitely be able to do it, because she's good at a lot of things," Lawson told Us Weekly.
But with her parents being the best in their fields, it's obvious that Blue Ivy will be the best in her field — whatever that may be.