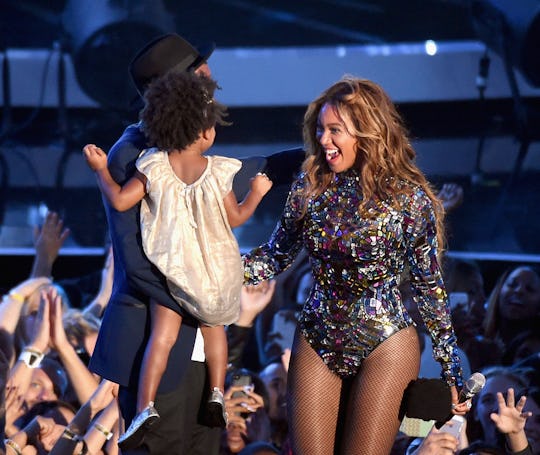 Michael Buckner/Getty Images Entertainment/Getty Images
Blue Ivy Is Reportedly Loving Big Sister Duty, Because Of Course She Is
It's always a toss up when you bring a newborn home to older siblings. Will they take to each other right away? Or will there be a great Infant versus Toddler situation? One can never tell. So when news broke that Beyoncé had her twins and Blue Ivy would no longer be the only Carter kid, it was natural to wonder how they'd fare. Fortunately, sources close to the family say that Blue Ivy loves being a big sister.
The 5-year-old allegedly helps Bey and JAY Z take care of the twins, Sir and Rumi. "Blue is the best big sister. [She] helps Beyoncé every day," the source told People. Which is also what Blue's grandmother, Tina Knowles, said earlier this summer. Knowles told Entertainment Tonight, "She's a good big sister, she really is. She cares for them a lot." So it's confirmed: Blue Ivy is the greatest.
It's not hard to be a happy big sister spending the summer at the compound the family rented in Malibu for the summer. The same anonymous source said the family has been loving it. "Everyone is doing great. They are still enjoying the summer in Malibu. Blue is excited to be back in school soon. The babies are growing and very cute," they said.
As if anyone expected anything less.
Although Blue is excited to get back to school on the west coast, the family is still looking for a permanent place for their new, larger family. Right now, the Malibu house rents for $400,000. It has multiple pools, a huge garden with 1,000 rose bushes, 10 bedrooms and 14 bathrooms. In addition to the 20 ft. ceilings, tennis court, and staff complex overlooking the ocean from a bluff. You know — where Beyoncé took the photo announcing the twins arrival.
The Carters moved to Los Angeles so that Blue could attend a prestigious elementary school so it might not make sense for them to stay in Malibu forever. But it has to be hard to leave come autumn, though the family is sure to land somewhere just as great.
Beyoncé had the twins on June 13, according to the birth certificates, which are public record. Their names were first confirmed by news organizations that obtained trademark paperwork — JAY Z and Beyoncé trademark all of their children's names so that people can't use them to sell random merchandise, which is unfortunately something people actually do.
With their parents look out for them like that, and Blue Ivy as their big sister, the twins are obviously set for life.