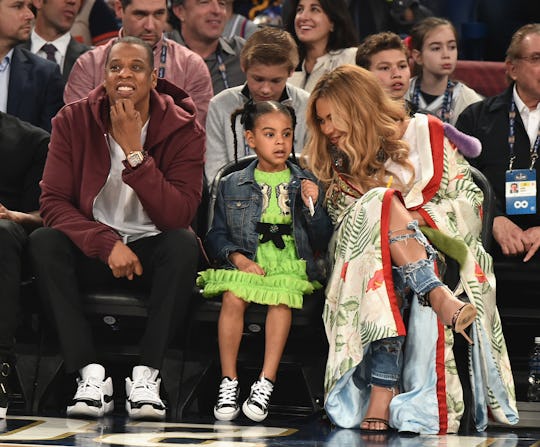 Theo Wargo/Getty Images Entertainment/Getty Images
Blue Ivy Performed In Another Dance Recital
The Knowles-Carter family is the gift to the world that keeps on giving. Not only are parents Beyoncé and Jay Z two of the most talented music and entertainment powerhouses probably of the millennial generation, but they're clearly passing along that propensity for performance to generations to come. Case in point: Their daughter, Blue Ivy, performed center stage at a ballet recital recently — and TMZ obtained some absolutely adorable footage of the 5-year-old jammin' along with six other little girls to Earth, Wind & Fire's "September." And it's clear that little Blue has moves just like her mom, and that it's only a matter of time before she could be blowing away millions with her Super Bowl halftime shows and gracing the Grammys stage with mind-boggling choreography and execution.
For now, though, Blue's just a kid twirling in her pink tutu, looking like a diva-in-the-making and, at the same time, a regular Kindergartener flouncing around the stage with her friends. Of course, she's one of the very few kids for whom a leaked dance recital video merits a TMZ writeup, and she has her famous parents to thank for that. It's unclear where the video is from or how it was obtained. Tt's possible that Bey or Jay was present and recording, but given their notoriously private nature, I'd say chances are slim they would share their own raw videos of Blue dancing with the media.
Still, this actually isn't the first time that the adoring public has caught a glimpse of Blue showing off her dance moves on stage. Last year, brief footage of the 4-year-old grooving to "You Can't Stop the Beat" from the musical Hairspray hit the internet in the form of what seems to be a Snapchat video. At that time, too, 4-year-old Blue showcased her aptitude for being onstage; she seemed to be the only one of the girls who really remembered all the moves.
It's probably safe to say that the little prodigy that is Blue Ivy has a little bit more experience than your average 5-year-old when it comes to showbiz, though. Shortly before the "You Can't Stop the Beat" video went public last year, she was officially featured in her mom's Formation music video, which was released that February.
Nowadays, everyone's favorite tiny ballerina is getting ready to become a big sister times two, as Bey is expecting twins probably any day now. That will be something to dance about.