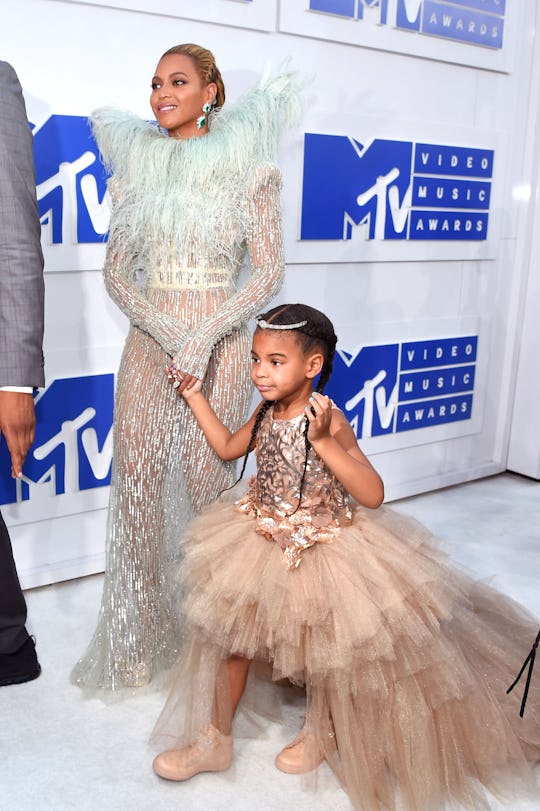 Larry Busacca/Getty Images Entertainment/Getty Images
The World Doesn't Deserve Blue Ivy At The Grammys
Yes, the 59th annual Grammy Awards is about celebrating the past, present, and future contributions the best of the best have made to music and the arts. However, it's also about Beyoncé and her family. I mean, duh. So it's not at all surprising that Blue Ivy's Prince inspired Grammys outfit is giving us all the life we honestly don't deserve. Not now. Not then. Not ever.
While most assumed Blue Ivy Carter would grace the Grammys in a probably customized and ridiculously expensive dress (because, unfortunately and even though it's 2017, gender stereotypes are still a thing) Blue went a different direction (with some help from her parents, we can all assume). Wearing a pink old-school tuxedo with black trim and a white, ruffled shirt, highlighted with a beautiful diamond-looking (eh, probably real diamond) brooch, Blue Ivy was pictured sitting on her famous father Jay-Z's lap, getting a kiss on the cheek as she looked onward and toward the spectacles of the Grammys stage. This obvious homage to legendary singer, song-writer, actor, and producer Prince (who passed away suddenly in April of 2016) is proof that our society has done nothing to deserve the grace, poise, and power of the Knowles-Carter clan.
Prior to the Blue Ivy spotting, a wildly-circulated but ultimately fictitious picture of Beyonce's soon-to-be oldest daughter made waves on social media. A viral picture of Blue in a golden gown with a giant purple bow on the back, it turns out, wasn't even remotely close to what Blue Ivy ultimately chose to wear at the Grammys. That's the internet for you, right? The original tweet has since been removed, in favor of Blue Ivy's actual outfit which, in my humble opinion, is much better.
Blue Ivy's outfit choice is just one of the many Beyoncé-Grammy moments fans can hold onto for years to come. Beyoncé performed at the Grammys while pregnant with twins which, you know, isn't something people (famous or not) normally do. She wore a baby-bump-showing, shimmering gold outfit that showcased the fact that she is performing while simultaneously growing two human beings inside her body, while the human being she brought into the world watched on while dressed like the one and only Prince.
These moments make Grammys moments, my friends.
It's easy to see where Blue Ivy pulls her soon-to-be-iconic fashion inspiration from, and why it's so easy for her to explore those parts of her artist self with a mother who is constantly doing the same.
In other words, we simply don't deserve this family (which is about to grow by two) and we can all hold onto Blue Ivy dressed as prince when the world feels just a little too overwhelming.