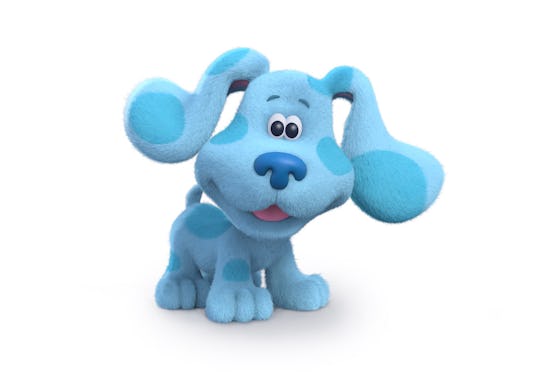 Courtesy of Nickelodeon
'Blue's Clues' Is Returning To Nickelodeon & It's Every Millennial Parent's Dream Come True
It's 2018, and there are practically as many reboots as there are original series on TV these days. From Full House to Arrested Development to Will & Grace, America can't get enough out of making what's old new again. The latest show to get a second chance at small-screen stardom is one of your childhood favorites. Blue's Clues is returning to Nickelodeon, as reported by Deadline, and the reboot already has a 20-episode order.
According to press materials Nickelodeon sent to Romper, production for the new Blue's Clues isn't scheduled to begin until this summer. In fact, the show hasn't even cast its star yet, and there will be an open casting call for someone to fill host Steve's shoes in Burbank, California on April 14. Hopefuls can already sign up to audition online — and Nickelodeon is not limiting the role to a Steve lookalike. As per the casting notice, production will be considering men and women of all ethnicities who can play between 18 and 25 years old. They're also hoping for a comedic star who can "empower the home viewer to feel important, respected, and smart," with child-friendly talents such as guitar playing, singing, or juggling.
Cyma Zarghami, President, Nickelodeon Group is excited for audiences to see the reboot's modern updates. In a statement included in the press release, Zarghami said:
With Blue's Clues, Nickelodeon launched what became TV's first generation of interactivity for preschoolers and set the bar for quality, curriculum-driven shows we have made since. The new, modern version of Blue's Clues will capture all the original's creativity and visual identity for a whole new audience ready for its fun adventures and expertly designed problem-solving curriculum.
The original Blue's Clues premiered on Nickelodeon in 1996 and ran for six seasons. Based on several clues (sorry) in the press release, it seems like the show's reboot will look much more modern than the original. The new series will have a "refreshed signature look," and feature entirely new production and animation. That being said, several key elements of the original series will remain in the reboot. For starters, Blue will still be a girl puppy — did anyone else know that Blue was a girl puppy in the original? Take that, stereotypically gendered colors.
Additionally, the interactive format of the original show will be at the heart of the reboot. The press release explains:
The new Blue's Clues series centers on the energetic girl puppy Blue who invites viewers into her animated world to help solve the day's puzzles with the help of a live-action host. Preschoolers are encouraged to interact with the action on-screen by answering questions, pointing out clues, jumping on their feet and playing along.
Not only is Blue's Clues remembered for its interactive nature, but as the release notes, the show also challenged its viewers' minds by doing lessons on topics including sign language, geography, physics, emotions, and anatomy. Hopefully more of that is to come in the reboot, since everyone is kind of counting on the younger generations to save America...
The concept of interactive TV shows has massively evolved since the days of Blue's Clues, in which the interactive part involved Steve asking the viewer questions and the viewer shouting the answers back at the TV. Last year, Netflix launched interactive programming, which are programs with a choose-your-own-adventure twist. The streaming platform's first interactive storytelling title was Puss in Book: Trapped in an Epic Tale, featuring Puss in Boots from Shrek. The program gives viewers options at several points in the story, allowing them to select where they would like the story to go next. Not to mention, Netflix has more interactive series on the way. All that being said, it will be interesting to see exactly what updates Blue's Clues makes to the interactive part of the show, considering viewers will not be able to click options on their TV screens. Here's hoping Nickelodeon drops some clues (sorry, I did it again) once production begins.
Check out Romper's new video series, Bearing The Motherload, where disagreeing parents from different sides of an issue sit down with a mediator and talk about how to support (and not judge) each other's parenting perspectives. New episodes air Mondays on Facebook.