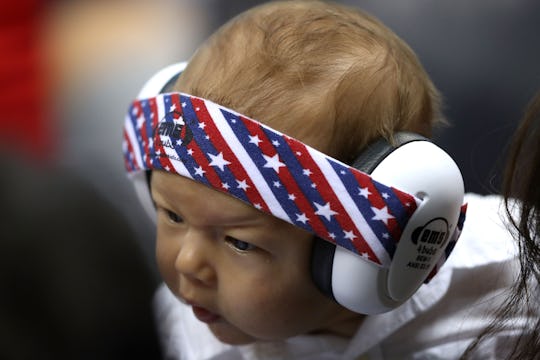 Al Bello/Getty Images Sport/Getty Images
Boomer & Michael Phelps Met Simon Cowell & Generally Had A Great Day
Legendary swimmer Michael Phelps retired after the Rio Games as the reigning world champion of his sport, and the most decorated Olympian of all time. He's certainly got talent, and he brought that infectious energy back to the United States by co-hosting an episode of America's Got Talent Wednesday night — and, as always, his fiancée Nicole Johnson and 3-month-old son graced the front row cheering him on. Before the 23-time gold medalist ambled onto the stage amid raging pyrotechnics to thundering chants of "USA! USA!" from the audience, Boomer and Michael Phelps even met judge Simon Cowell, showing that their unique mixture of adorable baby-ness and mind-blowing athleticism can melt even the toughest of critics.
In a post on Boomer's own Instagram page (yeah, that's definitely a thing; of course Michael Phelps' firstborn son is precocious), the newborn appears in a photo along with both his parents as well as Cowell. Cowell is notorious for tearing down American Idol contestants with scathing, borderline cruel insults, but he's cheesin' hard in the photo with the Phelps fam. "How amazing is this?!?" reads the picture's caption."I'm hanging with daddy before America's Got Talent, and I got to meet the legend Simon Cowell!!"
From there, it just got better for everyone involved. Johnson and Boomer soon headed out into the America's Got Talent audience — Boomer wearing his signature noise-cancelling headphones, of course — and Phelps joined host Nick Cannon on stage. Once the crowd quit going understandably berserk, Phelps got down the the business of chatting about this medal sweep in Rio this month. He added an additional five golds and one silver to his cache, and that 23rd career Olympic gold meant so, so much because Boomer was there to see it, or at least sleep through it poolside, he said When he won his final career gold, that's when "all the emotions came out," the 28-time Olympic medalist told Cannon:
I was finally happy with everything that I did in my career, and I was able to retire how I wanted to. But most importantly, I had our first child in the stands, there watching the race. And he wasn't always awake, but it's a completely different experience being able to look up and see your baby boy up there after a race.
In addition to swimming a series of bonus victory laps as he capped off his career after returning from his first retirement, Phelps treated much of his fifth Olympics experience as a ode to his son. From the training tennis shoe with the baby's footprint on the inside to triumphantly returning home to Scottsdale, Arizona, to hang out in the pool with him, it looks like Phelps may be getting ready to pass the swimming torch — er, goggles — over to the next generation. Even Simon Cowell can recognize it when he's in the midst of greatness, both present and future.