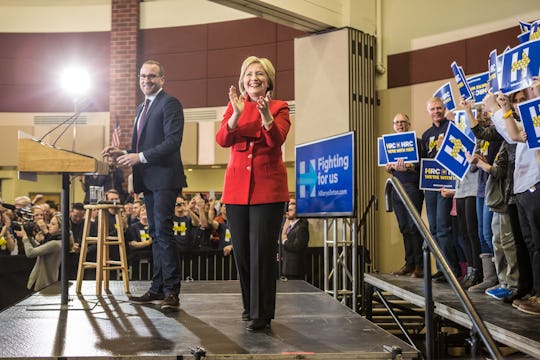 Brendan Hoffman/Getty Images
Boston Globe Endorses Hillary Clinton For President & It's Not The Only One Getting In On The Campaign Madness
The weather might be chilly in Boston today, but former Secretary of State Hillary Clinton just got a warm reception from Beantown's most prominent paper. On Monday, The Boston Globe endorsed Clinton for president, citing her "demonstrated strengths and experience" as the reason she was best qualified for the job. In addition to praising Clinton's role in President Obama's administration, highlighting her achievements on progressing "civil rights, health care reform, climate change, and foreign policy," The Globe cited Clinton's firm stance on gun control reform as a major reason the publication decided to champion her candidacy, with Vermont Sen. Sanders' view being too moderate for the paper.
Indeed, Sanders' vote against the Brady background check bill and his vote to protect firearms corporations from legal liability have previously proven to be problematic for the paper. "Clinton is simply more credible on what for too many Americans is a life-and-death issue," wrote the editorial board of The Globe wrote in its endorsement.
What I personally love most about this endorsement is that it sees Clinton for the woman she is as a whole: a person who has been in the public's spotlight for 25 years, and despite the legion attacks leveled at her over the years, has emerged like a boss.
Wrote the paper,
Her main Democratic opponent has failed to expand his coalition, and her GOP opponents are undercutting themselves every time they attack her over e-mails, Benghazi, or her husband's sex life. Even after 25 years in the limelight, her opponents still don't seem to understand how much stronger those attacks make her.
It's been a whirlwind two weeks for presidential endorsements. As Tina Fey reminded us on Saturday Night Live this weekend, Sarah Palin endorsed business mogul Donald Trump last week, and, as Slate reported, State Representative Justin T. Bamberg of South Carolina, who's also the lawyer for the family of Walter L. Scott, an unarmed African American man who was fatally shot by a police officer during a traffic stop in 2015, withdrew his support for Clinton. Bamberg is now supporting Sanders.
According to The New York Times, following a 20-minute discussion with Sanders about the criminal justice system and Sanders' plan for police reform, Bamberg said that "Hillary Clinton [was] more a representation of the status quo when [he thought] about politics or about what it mean[t] to be a Democrat."
As prominent politicians, publications, and personalities begin to make presidential endorsements, voters have a chance to reexamine each candidate's stand on policies that are important to them — and with its endorsement Monday, The Boston Globe joined a long list of vocal proponents that could sway the electorate going forward.
Images: Brendan Hoffman/Getty Images (2)