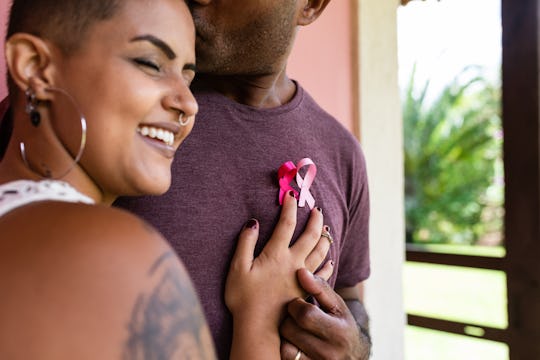 Igor Alecsander/E+/Getty Images
These 15 Breast Cancer Awareness Poster Ideas Are Guaranteed To Stand Out
In case you haven't heard, October is Breast Cancer Awareness month, so get ready to wear some pink. If you're organizing a fundraiser or planning to attend an awareness walk or charity event, here are some great breast cancer awareness poster ideas that will help you make an impact and support those affected.
If you're looking for ways to support the cause, many charities, such as The American Cancer Society and Susan G. Koman, host walks to raise money that benefit breast cancer research to help find a cure and better treatment options for patients. Breast cancer is the most frequent cancer among women, according to the World Health Organization. This devastating disease impacts 2.1 million women each year and is responsible for the most cancer-related deaths among women... and the rates are only increasing. Many of us have been affected or know someone who has been affected by breast cancer at some point in their lives, so next month show your support by raising awareness to help fight against this deadly illness.
The CDC recommends women between the ages of 50 to 74 years old who are at average risk of developing breast cancer should get a mammogram every two years. Women who are under 50 and are concerned about their risk should talk to their doctor to see if getting checked earlier is better for them. Early detection is key when it comes to treating breast cancer, so help save a life and spread the word this month with these creative signs.
This article was originally published on