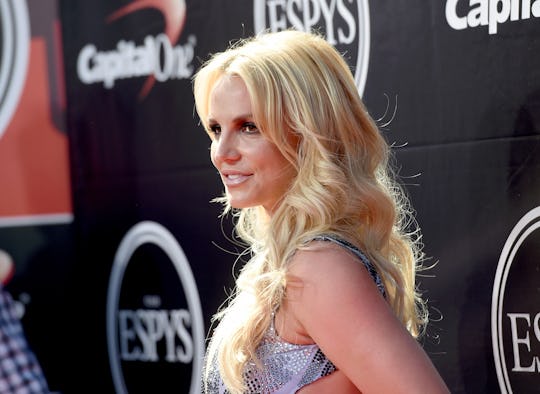 Jason Merritt/Getty Images Entertainment/Getty Images
Britney Spears Says Maddie Is "Making Progress"
It's been an undoubtedly terrifying ordeal for Jamie Lynn Spears and her family, ever since the singer's 8-year-old daughter was hospitalized Sunday after an ATV accident, reportedly in critical condition. But on Wednesday, Jamie Lynn's older sister, Britney Spears, said her niece, Maddie, is "making progress" in an Instagram post, an encouraging development to what was no doubt an unbearably stressful incident. The family has requested both prayers and privacy during this time — and the public certainly owes them that much.
News that the girl had been injured while operating an all-terrain vehicle on her family's property in Kentwood, Louisiana, emerged Sunday evening — but details about her injuries were scarce, besides that the situation was very, very serious. Since then, some encouraging updates have reached the media: She's been awake and talking since Tuesday afternoon, recognizes family members, and "has not suffered any neurological consequences from the accident," according to a statement. This is surely a huge relief for her family, as Maddie was reportedly submerged in water for minutes after the crash. According to a police report, she had been operating the ATV when she swerved to avoid a drainage ditch, overcorrected, and ended up in a pond as a result.
But the incident apparently has not reached the level of tragedy that it could have. "We are so grateful to share that Maddie is making progress," Britney Spears wrote of her niece in the most recent update on her condition Wednesday. "Thank you all for sending thoughts and prayers our way. Let's all keep praying."
Jamie Lynn Spears and her husband, Jamie Watson, were reportedly just about 100 yards away when Maddie crashed the vehicle, and they dove into the water to rescue her along with other family members, according to a police report obtained by People magazine. Maddie was trapped by her seatbelt, though, so emergency service personnel freed her when they arrived about two minutes later.
It must have been simply heart-stopping for anyone who saw it happen. Since then, the girl's family members "have kept a round-the-clock vigil" over her, People reported. By all available accounts, they're getting the best results they can hope for, under the circumstances. "Thank you to everyone for the prayers," Watson, who is the 8-year-old's stepfather, wrote in an Instagram post Tuesday. "Maddie is doing better and better. Thank y'all so much."
While Maddie may have some physical injuries from which to recover, it's clear that her family has been there with her every step of the way and will be in the future, too. In that respect, she's lucky. And judging by the progress she's reportedly making, the little girl is fortunate in more ways that one.