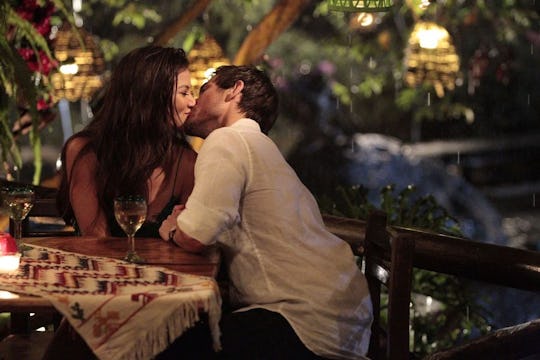 ABC/Rick Rowell
Caila & Jared Leave 'Bachelor In Paradise' But That Doesn't Mean They'll Stay Away
Caila and Jared began Bachelor in Paradise with a mutual attraction and connection that only wavered once Ashley I. arrived in paradise. So when Jared and Caila leave Bachelor in Paradise finally, it's not really much of a surprise, since Ashley pretty much drove them away while trying to drive them apart. Unfortunately for Ashley though, Jared and Caila would rather be together and far away from paradise than anywhere with Ashley present.
Caila leaving paradise was kind of a long time coming though, to be honest. Ashley was clear from the beginning about her dislike for Caila and her attachment to Jared still. And, as Caila said herself, dealing with Ashley intruding on their relationship every day became too much and Caila began to feel downright uncomfortable when she should have been free to fall in love.
But the best part about Caila leaving, aside from being free from the glaring eyes and overly dramatic tears of Ashley, was the fact that Jared left with her. And when Ashley asked for a final hug, Jared just dipped out, walked back up the outdoor steps, and chased down the SUV with Caila in it. Caila and Jared left Bachelor in Paradise probably a lot later than we would have expected them to, since this whole Ashley thing has been going on for a few weeks now, but being away from her is probably what the couple needs in order to actually grow in their relationship instead of always looking over their shoulders to see Ashley peering out through tropical brush.
Does this mean that Jared and Caila are still together after Bachelor in Paradise? Although the couple didn't stay until the end of Season 3 and instead opted to leave as a couple, that doesn't mean that they didn't build something out in the real world. A Bachelor in Paradise proposal obviously didn't happen with Jared and Caila (which is a good thing because I'm pretty sure Ashley would have burned down the tiki bar with Jorge in it), but that's totally okay. There doesn't have to be a marriage proposal in order for a couple to work after Bachelor in Paradise.
Of course we don't yet know the fate of Caila and Jared as a couple, but you don't want to believe that Ashley was right about Jared having deeper feelings than Caila or that her efforts to drive a wedge between them worked. Either way, Ashley's choice in Wells has now put her in another love triangle. Or, in this case, a square, so good luck with that.