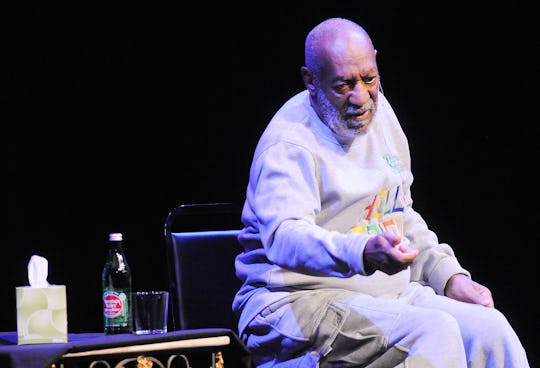 Can Bill Cosby Be Charged For Any Of The Other Assault Allegations He Faces? The Answer Is Complicated
After more than a decade since a former Temple University employee claimed Bill Cosby drugged and sexually assaulted her, Cosby officially faced criminal charges and an arrest warrant in Montgomery County, Pennsylvania on Wednesday. The announcement marked the first charge against the former comedian and television star, after a string of women have come forward alleging that Cosby had drugged, sexually assaulted, or raped them. Can Cosby be charged for the other allegations he has faced? The answer is both complicated and disappointing.
Montgomery County District Attorney Risa Vetri Ferman said Cosby was charged with aggravated indecent assault, a felony, of Andrea Constand, who viewed Cosby as a "mentor" before he drugged and violated her, according to NBC News. Constand reported the assault to Pennsylvania authorities in 2004, but Cosby was never charged, making Wednesday's decision a reversal of a previous district attorney's conclusion when he refused to charge Cosby in 2005. Cosby's representative, Christopher Tayback, did not immediately respond to Romper's request for comment on the arrest.
This arrest warrant and inevitable arraignment, made 12 years after the alleged incident, comes with many additional questions. How much time will Cosby serve if he is convicted of assaulting Andrea Constand? And perhaps, even more pressing, will this arrest warrant mean Cosby will be charged for any of the other allegations? More than 50 women have accused Cosby of sexual assault, according to Vanity Fair, so should we expect more (a lot more) arrest warrants?
The answer is difficult, murky, and depends on a number of factors. Statutes of limitations vary from state to state, with eight states having no statute of limitations for persecuting felony sexual assault. For example, the statute of limitations for sexual assault in the state of Pennsylvania is 12 years, so the decision to charge Cosby was likely made at this time in order to adhere to the law. (The statute of limitations would run out in Constand's case in January.) Another year and, in Pennsylvania, an arrest warrant wouldn't have been possible.
In the case of Barbara Bowman, who came forward and alleged Cosby sexually assaulted her on multiple occasions in 1986, she might be able to file charges over one of the alleged incidents. The first was in Reno, and a charge cannot be filed against that incident, as Nevada has a four-year statute of limitations. The second was in New York City, and a charge cannot be filed against Cosby for that incident either; the statute of limitation is five years for sexual assault. The last alleged incident occurred in Atlantic City, and a criminal charge can be filed against Cosby for this allegation, as New Jersey is one of eight states that does not have a statute of limitations for sexual assault.
The statutes of limitations for each state also vary depending on the severity of the crime, the age of the victim and the type of sexual assault. For example, in California — where Linda Joy Traitz claimed Cosby tried to give her drugs and became "sexually aggressive" with the then-19-year-old waitress in Los Angeles — there's a 10-year statute of limitations for rape, or, if the victim is a minor, the statute extends until the victim turns 28 years old.
In response to Linda Joy Tratiz's allegations, and many others made by multiple women, Cosby has emphatically maintained his innocence. In a 2005 Interview with National Enquirer, Cosby discussed Andrea Constand, saying he was, "not going to give in to people who try to exploit me because of my celebrity status." In response to an additional allegation by Tamara Green in 2005, Cosby claimed he didn't even know her and that her story was "absolutely false." As in most sexual assault and/or rape cases, so-called "he said/she said" cases are much more difficult to prove, especially when a significant amount of time has passed since the incident allegedly occurred.
So, for each of the more than 50 women who have come forward to speak out against Cosby, an in-depth look at exactly what happened, where it happened and when it happened, would be essential in deciding if criminal charges could legally be filed. Unfortunately, many of the alleged incidences occurred in states where the statute of limitations has already passed.
Image: Gerardo Mora/Getty Images Entertainment