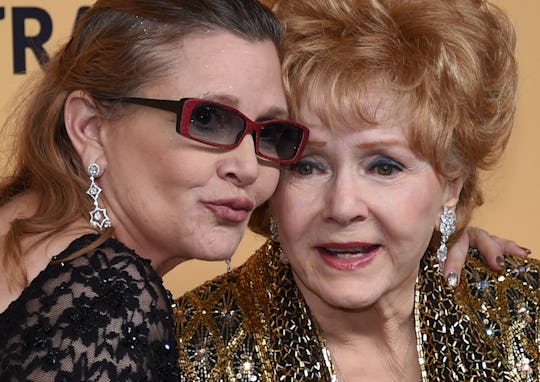 Ethan Miller/Getty Images Entertainment/Getty Images
Did Debbie Reynolds' Grief Cause Her Stroke?
It's been a tough week for the entertainment industry and the family of mother-daughter actress duo Debbie Reynolds and Carrie Fisher. On Tuesday, Fisher died of a heart attack at age 60, and just the next day, Reynolds — who won the Screen Actors Guild's Lifetime Achievement Award in 2015 — was hospitalized for what is believed to have been a stroke, as reported by TMZ. The devastating development came not long after Reynolds posted a Facebook tribute to her "beloved and amazing daughter," illustrating the pair's closeness. But was Reynolds' medical emergency triggered by her daughter's death? In fact, grief can cause strokes, although there's no official confirmation that that was the case in this sad situation. Update: On Wednesday evening, Debbie Reynolds' son confirmed that she passed away after the initial report of her stroke.
Earlier: In May, a documentary featuring Reynolds and Fisher premiered at the Cannes Film Festival in France. Called Bright Lights: Starring Carrie Fisher and Debbie Reynolds, the film was "an intimate portrait of fame, family, aging and mother-daughter dynamics," as Luchinda Fisher wrote for ABC News. And they certainly were bright lights in Hollywood: Reynolds, who starred in the 1952 musical Singin' in the Rain, was one of the preeminent singers and actresses of the 1950s and 1960s, according to The Los Angeles Times. Carrie Fisher followed her mother into show business, becoming a household name in 1977 at the age of 19, when she starred as Princess Leia in the original Star Wars trilogy.
In a 2013 interview with Reynolds about her memoir Unsinkable, USA Today reported that the star's beverly Hills home was just a "driveway away" from her daughter's. Although the pair had mostly worked on projects separately, Fisher wrote the script for a 1997 episode of the sitcom Roseanne in which Reynolds appeared as the mother of John Goodman's character, according to E! News.
So it's devastating, but not altogether shocking, that the 84-year-old Reynolds was rushed to the hospital Wednesday afternoon, when she had been at her son's house discussing funeral arrangements for Fisher. If she did indeed experience a stroke, the circumstances were ripe for it. A 2014 study of seniors who had recently lost a partner revealed that they were twice as likely to suffer a heart attack within the first 30 days after the loss, and that the chance that they would have a stroke increased 2.4 times, NBC News reported.
Dr. Sunil Shah, who co-authored the study, explained why:
There is evidence from other studies that bereavement and grief lead to a range of adverse physiological responses, including changes in blood clotting, blood pressure, stress hormone levels and heart rate control. All of these will plausibly contribute to an increased risk of events such as heart attacks and stroke after loss of a partner.
Even though it was Fisher who ultimately died first, she was the one who was concerned about her mother's increased frailty, and was especially interested in working on the documentary together because she believed it may be Reynolds' final big project. "It's a lot of times terrifying, but watching my mother, who's incredibly resilient, coping with certain health issues that she's had," she told People in May. "We were really lucky we got really what probably could be her last [big project]."
Reynolds' medical emergency happened not long after she posted a loving tribute to her daughter to Facebook. "Thank you to everyone who has embraced the gifts and talents of my beloved and amazing daughter," she wrote. "I am grateful for your thoughts and prayers that are now guiding her to her next stop."
Their relationship was undeniably close. Even though Reynolds hadn't lost a romantic partner, as had the people in study that revealed an increased risk of heart attack and stroke, she said goodbye to someone who had been a partner in life in many other ways.