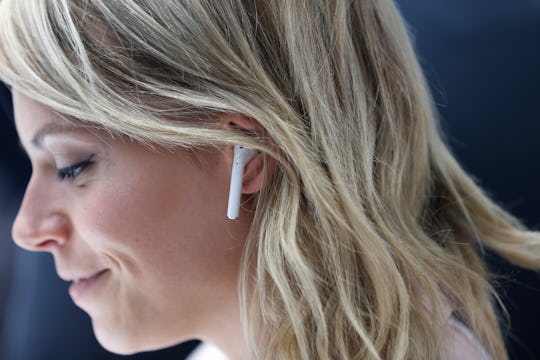 Stephen Lam/Getty Images News/Getty Images
Can I Use My Headphones With The iPhone 8?
Fall is unofficially here: There's a crispness in the air, PSLs are back at Starbucks, and Tuesday's the much-anticipated Apple iPhone event at the new Steve Jobs Theatre at Apple's headquarters in Cupertino, California has arrived. (Cue my girlish nerdy squealing and clapping of hands.) This year's event has quite the hype, with rumors indicating that Apple would release not one but three new iPhones: The iPhone 8, iPhone 8 Plus, and the iPhone X — and they did. It's been just over a year since Apple did away with the 3.5mm headphone jack on the iPhone 7, so what's the deal this year — can I use my headphones with the iPhone 8 or what?
Let's not forget that at last year's iPhone event, Apple dropped the bomb on iPhone fans by removing the headphone jack from the iPhone 7. People flipped out, but here we are a year later, no worse for wear. Apple introduced AirPods, its wireless headphone technology that strongly indicates a fully wireless smartphone is where Apple is headed. Case in point: It was widely speculated that Apple might introduce wireless charging for the iPhone 8, another rumor that turned out to be true. But let's get back to those headphones, shall we?
First, the bad news: The 3.5-millimeter iPhone headphone jack as we know it is gone for good — the iPhone 7 saw to that. Apple didn't completely leave its users high and dry, however, if they weren't willing to drop a cool $159 on a pair of AirPods; Apple included a Lightning-to-3.5-millimeter headphone jack adapter with the iPhone 7. Given how tiny they are, people lost them pretty quickly, so Apple has conveniently sold replacement headphone jack adapters at $9 a pop. It's unknown if users will be on the hook to purchase their own with future models of the iPhone from now on, and it wasn't mentioned if the adapter will be included with the iPhone 8, iPhone 8 Plus, or iPhone X.
Update: The Apple Store now shows that the Lightning Connector adapter will be included in all new iPhone models introduced at Tuesday's event.
For $9, I don't think it's that much of a big deal if they do or don't come with whatever follows the iPhone 8 — it's basically one of the cheapest proprietary Apple accessories you can buy. (I'm looking at you, $19 official Apple Lightning to USB cable.)
Several Mac insider sites, including 9to5Mac, MacRumors, and Cult of Mac, have reported that the iPhone 8 will be the last iPhone to include the headphone adapter dongle. This all definitely seems to be in trend with making the iPhone as wireless as possible. In 2016, The Wall Street Journal reported that Apple's Chief Design Officer Jony Ives ultimately wants "iPhone to appear like a single sheet of glass" — so pushing users towards AirPods and its wireless Beats By Dre line of headphones and earphones certainly seems to indicate that design evolution.
On the one hand, I'm totally happy to no longer have to deal with a mess of headphone knots tangled in my purse or pockets. But on the other hand, I also know how easy it is for ridiculously small peripherals to disappear like socks in technology's dryer, so I'm not totally sold on the AirPods and other in-ear wireless headphones just yet. For now, I'm glad to see that Apple is giving iPhone fans at least one more model with an included headphone jack adapter, but if I'm going to be honest, it's the iPhone 8 new gold color that has me most pumped.