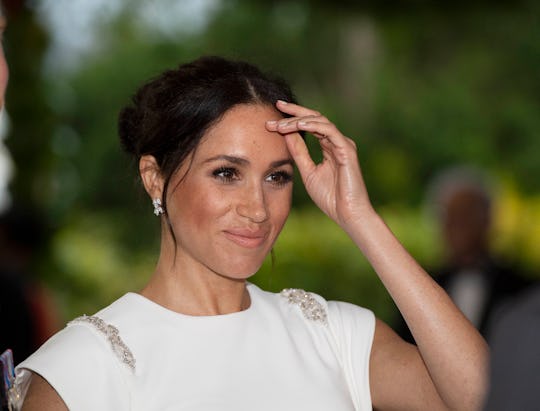 Pool/Getty Images Entertainment/Getty Images
Meghan Markle Can Technically Vote In The Midterm Elections, But Will She?
Few things are more important than the right to vote, and never has that been more discussed in recent history than in the run-up to the 2018 midterm elections. But what about all those American citizens who are living abroad? Or those who have married someone across the pond, such as the Duchess of Sussex? So can one of America's most famous expatriates, Meghan Markle, vote in the midterms this year?
For now and technically, yes, Markle can vote in this upcoming election, according to the U.S. Department of State. That's because she's still a U.S. citizen right now, even though she seems to be planning to stay in Britain and also plans on becoming a British citizen over the next few years, as a spokesperson for Kensington Palace told CNN last November.
Although her plans on whether she'll retain her American citizenship across the pond have not been announced, she can still technically vote in the midterms. According to the U.S. Department of State, "most U.S. citizens 18 years or older who reside outside the United States are eligible to vote absentee for federal office candidates in U.S. primary and general elections."
The process that allows Markle, and other citizens living abroad, to vote is actually the same one that allows other Americans to vote if they live in a different state than where they hold residency: the absentee ballot. According to the U.S. Department of State a, citizen simply has to submit Federal Post Card Application to the local election office of their state of residency more than 45 days before and election. They'll then be sent a ballot to fill out and mail back.
At this time, Markle is still a U.S. citizen, according to TIME, so she had the right to request her absentee ballot and cast her vote. And as previously stated, she does plan on applying for British citizenship, but the process isn't quick, according to the BBC. Prince Harry's communications secretary told the news outlet that Markle would be "compliant with immigration requirements at all times." One requirement is to take a citizenship test on, which she must get 18 out of 24 questions correct, according to CNN. You can take the test yourself and see how you do (Hint: It's not easy.).
To enter the country as Prince Harry's fiancé, Markle also had to obtain a family visa, according to the BBC, which is good for two-and-a-half years. On this visa, the couple were required to marry within six months, which they easily achieved in one of the most famous moments of 2018. Finally, someone with a family visa must wait five years to apply for permanent residency, at which time she will take the citizenship test, as the BBC reported.
The New York Times reported that millions of U.S. citizens live abroad, so these absentee ballots can have a tremendous effect on an election. The Federal Voting Assistance Program conducted a large survey of people living overseas and estimated that 2.6 million citizens are eligible to request absentee ballots. And in the 2014 midterm elections, 57 percent of the survey's respondents said they voted. With the presidential election in 2012, that number was higher — at 72 percent, according to the Federal Voting Assistance Program.
Now, while Markle can indeed vote in this upcoming election, there's the question of whether she actually will — and it seems very unlikely. As The Sun reported, though it may only apply to the queen herself, the royal family is said to abide by a rule that considers it "unconstitutional for the Monarch to vote in an election." In fact, a spokesperson for Buckingham Palace told Newsweek just last year that "'by convention,' members of the royal family 'close to the Queen' do not exercise their right to vote."
Though it's unlikely that Markle will cast a vote next month, there's no doubt that she's staying on top of the issues and wants every other American to go out and vote. In fact, according to Town & Country, Markle once wrote:
To be able to share your voice, and to weigh in on the choice of political leaders and legislation that will set the foundation for our futures (not to mention, that of our children). Well, we could wax poetic on this, but it seems fairly evident…you, my sweet, simply must vote.
So, for every election, take Markle's advice. And if you have any questions about the election process or where you can go to vote, be sure to visit your state's election office website.