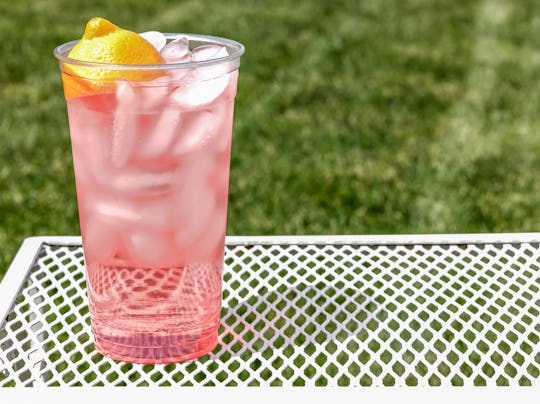 gchapel/Fotolia
Can Plexus Increase Breast Milk Supply? A Lactation Consultant Weighs In
The conversation about breast milk supply — whether it's a lack of or because your cups runneth over — can make even the most collected mom feel a little overwhelmed. Moms who are worried about not making enough milk will start chowing down chickpeas and oats to help the process along, while those with an overactive supply might implement a more balanced feeding strategy to cool their, ahem, breasts. Of course, there are always new suggestions, including recent ones that point to the popular health drink, Plexus, to help boost milk production. But can Plexus increase breast milk supply?
First of all, what is Plexus? Referred to as "the pink drink," Plexus touts a long list of benefits that result from using its "premium microbiome activating formula that contains ingredients clinically-demonstrated to improve gut health and promote weight loss," according to the website. In addition to its trademark drink, Plexus Slim, the company also offers supplements, chewables, and protein drinks.
But the fact that none of the statements have been evaluated by the FDA causes many doctors to caution pregnant and breastfeeding women against taking Plexus. Basically, there isn't enough research to give it a green light.
But there are many women who say they were able to safely use Plexus throughout pregnancy and breastfeeding. Catherine, a Plexus ambassador and mentor, noted on her site that she and several of her friends received doctor approval to use Plexus Slim (the pink drink), Pro Bio 5, BioCleanse, and several other Plexus products while pregnant. (On the other hand, they were told to avoid Accelerator, Block, Boost, and X factor while pregnant.)
As for breastfeeding moms, YouTube user Patrice at MadeUpMama noted that after trying to increase her supply with tactics like drinking more water or pumping more, she became frustrated with little to no results. But when a friend "saw results almost immediately" by using Plexus to boost her milk supply, Patrice decided to give it a shot, too. Several other moms also touted the benefits, including Plexus Mommy, who noted on Facebook that she was "proud to be a Plexus milk cow."
But Leigh Anne O'Connor, an International Board Certified Lactation Consultant (IBCLC) and parenting coach, tells Romper in an email interview that it is not recommended that women take Plexus while breastfeeding.
"If moms claim that it has helped with milk supply — along with a long list of other drinks and foods — chances are that it is due to dehydration so the supplements helped to restore her fluids," she says. "In addition to trying these supplements, she may also be making other lifestyle choices that help with milk supply." Those other choices could be increasing pumping or breastfeeding sessions or letting your little one breastfeed for longer than usual. None of the ingredients in Plexus are galactagogues — foods or herbs that increase milk supply — but when combined with other factors, it's easy to see why some may think "the pink drink" increases their milk supply.
If you are still interested in taking Plexus, then take it to your six-week appointment and have your doctor look it over. Like any new supplements or medicines taken while breastfeeding, it's important to get a stamp of approval from your healthcare provider. Because the most important part of this — breastfeeding or not — is keeping you and your little one healthy.
Check out Romper's new video series, Romper's Doula Diaries: