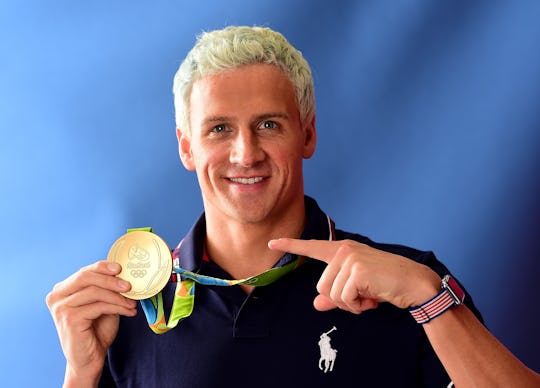 Harry How/Getty Images Sport/Getty Images
Can Ryan Lochte's Medal Be Taken Away? The IOC Could Take Medals From The Entire Team
As #LochteGate continues on, many people are wondering what will become of Ryan Lochte and his teammates. The four Olympians initially reported they were robbed at gunpoint after a night of parting in Rio over the weekend, but new surveillance footage acquired by The Daily Mail appears to show the Olympians drunkenly destroying a restroom at a gas station. With punishment looming, many are wondering: Can Ryan Lochte's medals be taken away?
Brazilian officials reported to The New York Times that the swimmers lied about the robbery after vandalizing a bathroom at a rest stop early Sunday morning when they were on their way back from a party. A bystander allegedly called the police, but by the time they arrived on scene, the swimmers had left. Brazilian authorities who viewed the security tape believe the swimmers fabricated the story in order to cover up what transpired at the gas station.
In addition to the vandalism and disorderly conduct, Lochte could also be charged with filing a false police report – a crime punishable in Brazil by six months' detention and hefty fines, according to USA Today. Because Lochte is back on U.S. soil, having left the country before the judge issued warrants for the seizure of the swimmers' passports, many are wondering if he could be extradited. A spokesperson for Lochte didn't hasn't responded to Romper's request for comment regarding Lochte lying about the robbery, and Lochte hasn't officially been charged with any crime.
There is a treaty between Brazil and the United States regarding the extradition of those who have committed crimes, and if a warrant was issued for Lochte's arrest and he was to return to Brazil, the authorities would follow through. It's unlikely that the U.S. would hold up its end of that treaty in the case of Lochte, according to Sports Illustrated, because he has not yet been charged with a crime. Further, if he was to be charged, those crimes would only be considered misdemeanors.
But would they be enough for the International Olympic Committee (IOC) to strip Lochte of his medals?
When it comes to taking away the medals of Olympians, the IOC has a pretty serious protocol. While the IOC can ultimately make the decision, it can also come from each sports' subcommittee — in the case of #LochteGate, then, the chair for swimming may weigh-in on taking back the medals Lochte won in Rio.
Further, because several teammates were involved, the IOC could also decide to strip the entire Men's Swimming team of their Olympic medals. Throughout the history of stripped medals, most have come as the result of doping scandals, but it's not unheard of for the IOC to strip an Olympian of their medal for something else.
In 1968, the entire Pentathlon team from Sweden were stripped of its medals because athlete Hans-Gunnar Liljenwall was disqualified for drinking two beers before his pistol shooting event. In 1972, swimmer Rick DeMont was stripped of his medal after testing positive for a prohibited substance present in a prescription asthma medication.
Other athletes have been stripped of their medals because of teammates who were caught doping. One of the most famous examples of a stripped Olympic medal is that of Jim Thrope. Thorpe competed in the 1912 Olympics in Stockholm and is widely regarded (by everyone but the IOC, it seems) as being one of the most talented Olympians of all-time, but he was stripped of his medals after it was uncovered that he had participated in minor league baseball. This meant that, in opposition to the Olympic rules of the era, he had previously been considered a professional athlete. At the time, the rules of amateurism governed the games — which seems strange now, when athletes have to competed at a professional level for years just to qualify.
In other words, it wouldn't be unheard of for the IOC to take away Lochte's gold, but it's also possible they'd take the medals of the entire men's swimming team, too.