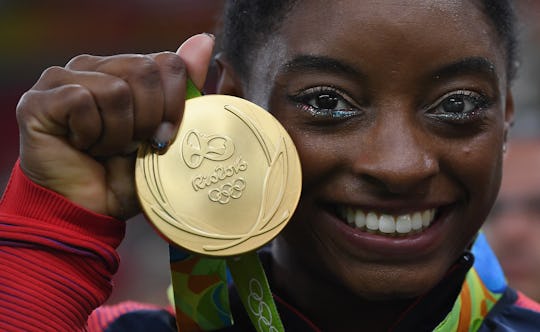 Laurence Griffiths/Getty Images Sport/Getty Images
Can Simone Biles Fall & Still Win The Olympic All-Around? She's Performed Almost Perfectly
As the Olympic Women's Gymnastic All-Around Finals continues, it looks like Simone Biles and Aly Raisman are unstoppable. As they two rotate through the multiple events individually (after the U.S. took the gold as a team earlier this week) some are wondering just how much of a margin of error a gold-medal favorite has to win the gold. Could Simone Biles fall and still win the Olympic All-Around?
Each event racks up points for the gymnasts toward their overall standing, and she remains at the top of her game in all the events that she's competed in so far. Since her scores are consistently much higher than the second place athlete, she could conceivably take a tumble or even not quite stick her landing and still take the gold medal.
During the qualifying rounds, Biles took first on vault, beam, and floor exercise, all by a pretty wide margin by gymnastics standards: She scored 0.367 points higher than the second place finisher North Korea's Hong Un-jong on the vault, 0.458 points higher than teammate Aly Raisman for floor exercise, and 0.267 points higher than teammate Laurie Herendez on the beam.
Gymnastics are scored by two panels: one that adds points to 0 throughout the routine, focusing on points for good connections (two high-level skills that are performed in sequence without pause) and the routine's overall difficulty. The other panel starts at 10 and takes away points for things like execution and artistry. Then, the two panel's scores are added together for the final score, which is usually between 13 to 16.
A fall would cost Biles a full point, and now that she's in her final events of the day, falling now would cost her the gold. But amazingly, she would still place in the top, because the difficulty of her routine is so high compared to the competition.