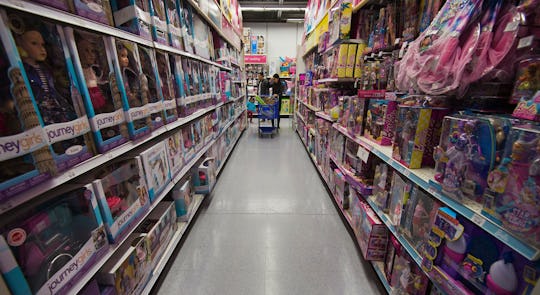 PAUL J. RICHARDS/AFP/Getty Images
Can You Buy Hatchimals At Toys "R" Us? They've Been Difficult To Find
Try not to freak out, but the holidays are next week and the supplies of Hatchimals at stores nationwide are low. Believe me, you're not alone if you don't have one all wrapped up and hidden in the upstairs closet for your kids. But there may be an out. You can buy Hatchimals at Toys "R" Us this weekend, since it looks like retailer will get some in for Sunday.
Toys R Us spokesperson Meghan Sowa confirmed in an email to Romper that the toy chain will also be replenishing stock throughout the week. So there might be a some hope in your Hatchimal quest. "On Super Saturday, Dec. 17 and Sunday, Dec. 18," Sowa explained, "Toys 'R' Us locations across the United States will be open from 6 a.m. – 2 a.m. (local time), as shoppers dash to stores during the last full weekend before Christmas." She added that the items would "be available in-store only."
Toys "R" Us is also offering customers even more ways to scoop up a Hatchimal in time for Christmas, according to Sowa. Toys "R" Us rewards members who shop in-store each day, now through Thursday, Dec. 22, will be automatically entered for a chance to win a $1,000 Toys "R" Us gift card PLUS a Hatchimal. A new winner will be drawn every day through that date, and each day a customer makes a purchase with their Rewards "R" Us number, they're given a new chance to win.
There's one teeny, tiny catch though. Toys "R" Us is selling the new batch of Hatchimals for $79.99, which is $20 more than the suggested retail price. But at least that means they are still going to be a little less expensive than what some people are selling them for on the internet. There are certain Hatchimals on eBay that are being sold for upwards of $200. That's insanity, but when it comes to making holiday magic — a parent has to do what a parent has to do, I suppose.
So there's a good reason to finish your holiday shopping at Toys "R" Us (even if waiting to win a raffle is a little risky). But there's also a good reason to not get out of your pajamas and grab one online. You just want to do it as soon as possible, so it has time to arrive by next weekend.
Unlike some other retailers who have been forced to prioritize stock and turn off store to store inventory exchanges, Toys "R" Us purchases are all "first come, first served," no matter the format, Toys "R" Us spokesperson Jessica Offerjost told The Chicago Tribune.
And just in case your local Toys "R" Us still runs out before you can get to them, Target is also planning on restocking "dozens" of Hatchimals before the holiday. Walmart and Amazon are out of them, but have them available to order from third party vendors, though you're likely going to pay a few hundred dollars for one. You can also get super hardcore and start tracking Hatchimal inventories across store locations.
But it will all be worth it when your little one lights up at the sight of it, gets stoked to watch it hatch... and then promptly forgets all about it, right?