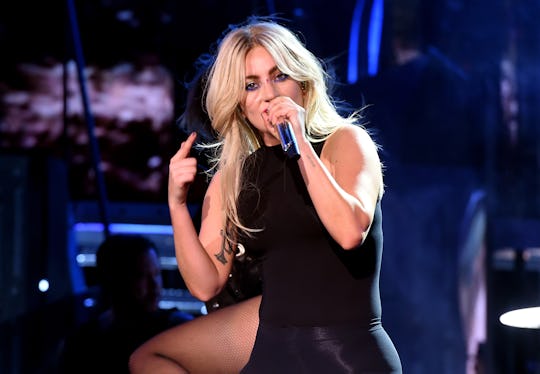 Kevin Winter/Getty Images Entertainment/Getty Images
Hurry To iTunes For Lady Gaga's New Single
Lady Gaga enthralled her Little Monsters with a powerhouse performance Saturday that included classics like "Bad Romance," "Alejandro," and "Just Dance." But she delivered fresh excitement, too: The headliner introduced a brand new single halfway through her 90-minute set from the prestigious Coachella Music and Arts Festival stage in Indio, California. And Coachella attendees don't get to keep this one all to themselves: You can buy "The Cure" on iTunes, as the Mother Monster herself announced at the end of the show.
In fact, Gaga shouted out iTunes specifically when she announced that the dancehall-R&B blend-pop blend single was available for mass consumption at the end of the show — even though it's also ready for streaming through services like Apple Music, Spotify, and TIDAL. "My new single is out tonight on iTunes. It's called 'The Cure,'" Gaga said at the end of her 18-song set, according to Us Weekly. Of course, she followed that up with her trademark endearment for her fans: "I love you!"
On iTunes, "The Cure" can be purchased for $1.29. And for hardcore Gaga fans, it could be well-worth shelling out for ahead of her massive Joanne World Tour, which kicks off in Vancouver Aug. 1.
Gaga was tapped to fill the headliner position after Beyoncé backed out because she's pregnant with twins. So, she obviously had a lot to live up to, especially because Coachella attendees had already purchased their nonrefundable tickets when the switch was announced. Dropping new music (The Guardian's Benjamin Lee labeled "The Cure" an "Edge of Glory" and "Born This Way" hybrid) certainly helped to do that. In addition, Gaga included "Telephone," one of her collaborations with Beyoncé, in her set list, and opted to simply go silent during Bey's part, according to USA Today.
She didn't refer to the Queen beyond that, though, instead preferring to focus on her own impressive music and stage presence. Like the catchy lyrics to "The Cure," which include:
If I can't find the cure
I'll, I'll fix you with my love
And if you say you're OK
I'm gonna heal you anyway
Promise I'll always be there
Promise I'll be the cure.
Gaga, of course, will be back for the second weekend of Coachella on April 22, to perform during the same coveted headliner spot as she did Saturday. Now, it's not Beyoncé's shining star she'll have to live up to. It will be her own.